Grande École
(2004)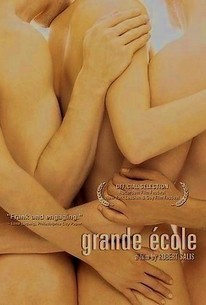 AUDIENCE SCORE
Critic Consensus: No consensus yet.
Movie Info
Sex, class, and race collide at a French private school in Robert Salis' Grande École. The privileged upper-class Paul (Gregori Baquet) is a student at the school who, although already involved with a girlfriend, becomes attracted to both a new roommate and a lower-class Arab school employee. ~ Perry Seibert, Rovi
Rating:
NR
Genre:
,
Directed By:
In Theaters:
On DVD:
Runtime:
Critic Reviews for Grande École
Audience Reviews for Grande École
Heart-breaking, moving, intense, insanely sexy, wow. Felt like a movie made for me. I identified with Paul a lot, and it's impossible not to fall hard for the earnest Mécir.
Christine S
Grande École (Great School/Grand School/Upper Class Private School) This European film is not for everyone, it deals with sexual experimentation, and relations. Paul is an upper-class young adult who is about to start out at a private school. He has chosen to live with two new roommates instead of living with his girlfriend, Agnès. As a result of this he gets little time to see her. Agnès starts to find the cracks in their relationship when she suspects Paul's attraction to a new roommate Louis-Arnault which leaves Paul in denial of any homosexual attraction. She decides to make a bet with him, who ever gets Louis-Arnault first wins. If she gets him, he will stop exploring his sexuality, if he does, she will leave him. In between this bet, Paul meets Mecir, a young Arabic worker who is keen on him. With Mecir, Paul goes on a journey of discovery that teaches him more to life than barriers of class, cultural differences and sexuality. "Grand Ccole" aspires to be the sort of existential drama that the French New Wave directors produced in the 1950s and 1960. It pours race, class, economic status, history and sexuality into a big martini shaker and pours out a heady concoction. But just what the film is, in the end, is not clear at all. It's slickly produced, and director Salis captures the physicality of the characters extremely well in the sex scenes and especially in the swim team's locker room. The cast is uneven, but they do nicely convey suppressed longings, deep suspicions and secret glances. And these things hold our attention even when the film wallows in its stew. When it starts boiling over, the dialog takes a distasteful turn, becoming preachy (Mecir actually insists that he went to a posh school too: the school of life!) and dipping into some awkward dream sequences. It's still watchable, but only because we can glimpse real friendship, desire and loyalty deep inside. Better than most gay movies but still pretty typical. This one is satisfying.. three stars maybe four
dfw foreignbuff
Grande École (Great School/Grand School/Upper Class Private School) Paul is an upper-class young adult who is about to start out at a private school. He has chosen to live with two new roommates instead of living with his girlfriend, Agnès. As a result of this he gets little time to see her. Agnès starts to find the cracks in their relationship when she suspects Paul's attraction to a new roommate Louis-Arnault which leaves Paul in denial of any homosexual attraction. She decides to make a bet with him, who ever gets Louis-Arnault first wins. If she gets him, he will stop exploring his sexuality, if he does, she will leave him. In between this bet, Paul meets Mecir, a young Arabic worker who is keen on him. With Mecir, Paul goes on a journey of discovery that teaches him more to life than barriers of class, cultural differences and sexuality. "Grand Ccole" aspires to be the sort of existential drama that the French New Wave directors produced in the 1950s and 1960. It pours race, class, intellect, economic status, history and sexuality into a big martini shaker and pours out a heady concoction. But just what the film is, in the end, is not clear at all. It's slickly produced, and director Salis captures the physicality of the characters extremely well in the sex scenes and especially in the swim team's locker room. The cast is uneven, but they do nicely convey suppressed longings, deep suspicions and secret glances. And these things hold our attention even when the film wallows in its stew. When it starts boiling over, the dialog takes a distasteful turn, becoming preachy (Mecir actually insists that he went to a posh school too: the school of life!) and dipping into some awkward dream sequences. It's still watchable, but only because we can glimpse real friendship, desire and loyalty deep inside. Better than most gay movies but still pretty typical. This one is satisfying.. three stars maybe four
ld pierce