Grbavica
(2007)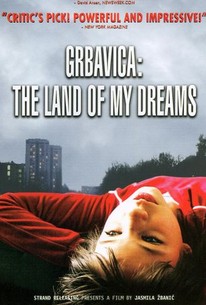 TOMATOMETER
AUDIENCE SCORE
Critic Consensus: An emotionally blunt and gripping drama, Grbavica deftly explores the emotional toll that all wars take upon those who survive them.
Movie Info
A woman sees her own traumatic past reflected in the actions of her teenage daughter in this drama from first-time writer and director Jasmila Zbanic. Esma (Mirjana Karanovic) is a single mother trying to raise her teenage daughter, Sara (Luna Mijovic), in Sarajevo in the wake of war. While Esma works as a barmaid at a nightclub run by Saran (Bogdan Diklic), a man on the wrong side of the law, she has trouble making ends meet, and receives occasional benefits payments from a support group for women who have been affected by the war. Esma has little interest in talking about the loss of her husband, whom she claims was a hero fighting for Bosnia, and can become hyper-emotional with little provocation. As Pelda (Leon Lucev), one of Esma's co-workers at the club, attempts to interest her in romance, Esma notices that Sara has caught the eye of Samir (Kenan Catic), a rebellious young man who is one of her classmates. As Esma tries to discourage Sara from becoming involved with Samir, she finds fate has forced her to tell her daughter the truth about her father. Grbavica received its world premiere at the 2006 Berlin Film Festival.
Critic Reviews for Grbavica
Audience Reviews for Grbavica
Grbavica delivers as a real-life family drama. It is refreshing to see acting more genuine than melodramatic, and yet still make for dramatic effect. The film may be a bit difficult to follow in places if you are unfamiliar with the culture (I am) but overall, the cultural aspect makes the film moreso interesting than confusing. All-in-all, Grbavica is a refreshing change from your typical studio films.
Robert Brogan
Super Reviewer
½
Bosnian director Jasmila Zbanic made an excellent movie about the true story of woman during the war in former Yugoslavia. Many Bosnian women had been raped by Serb soldiers, and this movie showed this issue in an unusual way.The touching story was very simple but showed in a delicate way through the relationship of an abused mother and her rebel teenage daughter. All the performances were fantastic but Mirjana Karanovic as Esma and the direction of Jasmila Zbanic were awesome and the result of the movie will certainly makes me want to watch it twice."
Daisy Maduro
Super Reviewer
½
[font=Century Gothic]In "Grbavica: The Land of My Dreams," Esma(Mirjana Karanovic), a survivor of the Bosnian Genocide, is a seamstress in Sarajevo by day who takes a night job as a waitress at a bar owned by Saran(Bogdan Diklic) to make ends meet. However, the second job still does not give her enough money to pay for her daughter Sara's(Luna Mijovic) field trip. So it helps that her friend Sabina(Jasna Ornela Beri) is willing to look after her daughter, even though like most teenagers, she is acting out. [/font] [font=Century Gothic][/font] [font=Century Gothic]While "Grbavica: The Land of My Dreams" is not earth shattering, it is certainly compelling enough in its exploration of a country that is still trying to come together after the atrocities committed more than a decade before. It certainly does not help matters that Esma's generation refuses to speak about their experiences.(The only reason she attends group meetings is to collect a government check.) To the viewer, it may seem very clear what she has gone through but to her daughter with a limited sense of history, it is a totally different matter. And maybe that is what the field trip is meant to rectify.[/font]
Grbavica Quotes
There are no approved quotes yet for this movie.