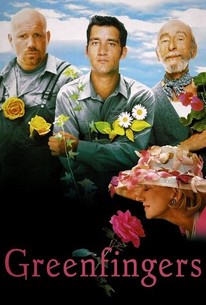 Greenfingers
2000, Comedy/Drama, 1h 31m
69 Reviews
5,000+ Ratings
What to know
critics consensus
Greenfingers follows the British feel-good formula of underdogs somehow beating the odds, adding nothing new to this already saturated genre. Read critic reviews
Where to watch
Rent/buy
Subscription
Rent/buy
Rate And Review
Movie Info
The beauty and delicacy of a flower seem a sharp contrast to the rough exterior of a prison inmate. Yet these two images are exactly what writer/director Joel Hershman brings together in "Greenfingers," a story of redemption that not only tickles the funny bone, but touches the soul.
Audience Reviews for Greenfingers
You know, I'll be honest right off the bat. Though that implies there are times when I am not honest in these reviews, which would be a lie in and of itself. Anyway, the point is that there's nothing about this movie that you haven't seen elsewhere and probably done better at that. Parts of it remind me of Mean Machine, which actually came out the same year as this, and which is also a remake of The Longest Yard. But that's mostly due to the prison setting. Realistically speaking, this is your typical light British comedy that moves at a brisk pace and doesn't require much in the way of thought process. It's a crowd-pleaser at its core and those type of flicks never usually have the most complex or thought-provoking of narratives or characters. And, yet again, there's no real problem with that. Like I always say, these movies need to exists. Sometimes you just wanna watch a film that won't depress you or hit you over the head with melodramatics. This certainly has its dramatic moments, but I don't feel that they use it to manipulate you or anything as more as it's used to inspire the characters in the film to move with the flower show they truly want to put on as a tribute to their fallen friend. So, yea, I felt that this was a movie that was better than the rating might imply. Not saying it's a good movie, or anything even remotely close to that, but I feel that it accomplished everything it set out to do. Whether it was good or not is irrelevant, they hit all of their goals and that is what they wanted this movie to be. Though I assume that some of you might think that that should make it a good movie, if they hit all of their goals. Not necessarily, the quality of everything within the movie is what matters. That's where the problems lie for the most part. Again, none of it is actually bad, it just isn't more than what it probably should have been for most people. Its reach certainly does not exceed its grasp. I will say that it is refreshing to see a prison movie where nobody who works in the actual prison is a major asshole. That was the one thing that was, somewhat, different. It's not anything that improves on the quality of the film, but at least it's something. The acting is pretty solid. Helen Mirren is always great. Clive Owen is still Clive Owen. His delivery is fine enough, but his facial expressions are, sadly, lacking. I don't know what else to say about this movie. What I do know is that this review kinda sucked. The movie didn't, it was onl average at best, but it's a sporadically enjoyable average. If you have Amazon Prime, then watch it on there. If you don't, then there's no real reason you should go out of your way to watch this.

This is a heart-warming, inspirational film about prisoners who become masters of gardening. Based on a true story, which is even better. It's nice to see a different prison film. Although it's not as funny as it could be, it has managed to entertain.

As a real fan of British humor, I am always surprised at how I'm not so much enthused by British drama. The characters are very one dimensional and the frame work of a highly predictable class struggle. Although it has some touching moments overall it's as enjoyable as watching early socialist films. Although he tries you never really feel the transformation that Owens makes from being an institutional mind to growing into his role as a gardener. I'm a big Helen Mirren fan and I was hoping for more than the bit supporting role. If you enjoy British drama this maybe for you, but not for me.

Silly and sweet. Nothing more and nothing less than what it intends to be.
See Details