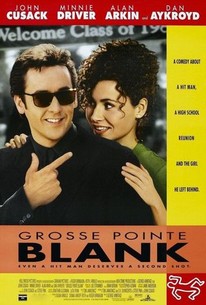 Grosse Pointe Blank
1997, Romance/Comedy, 1h 47m
72 Reviews
50,000+ Ratings
What to know
critics consensus
A high-concept high school reunion movie with an adroitly cast John Cusack and armed with a script of incisive wit. Read critic reviews
Where to watch
Rent/buy
Rent/buy
Rent/buy
Rate And Review
Grosse Pointe Blank Photos
Movie Info
After assassin Martin Blank (John Cusack) has trouble focusing on his work, resulting in a failed assignment, he returns to his hometown, Grosse Point, Mich., for his 10-year high school reunion. There he meets Debi Newberry (Minnie Driver), an old girlfriend that he stood up for the prom. Martin's secretary (Joan Cusack) sets up a hit for him while he is in town, but Martin starts to reconsider his life. Meanwhile, he is hounded by an unstable rival hit man, Grocer (Dan Aykroyd).
News & Interviews for Grosse Pointe Blank
Audience Reviews for Grosse Pointe Blank
A good time at the movies in this fantasy where a hit man goes home to his 10 year high school reunion and the girl he left behind. Nothing serious here, just a fun date movie with loads of danceable 80's songs as well as shootouts wherein the characters insult each other while trying to kill the other: always fun.

He's gotten his share of the "Miami Blues", and now George Armitage is taking on Grosse Pointe, and he's bringing more action than ever... or at least I think that's what he's doing, because, like everyone else, I didn't see "Miami Blues". Still, I've heard of finding a woman you're willing to kill for, but let me tell you right know, I... was not expecting that to be Minnie Driver. Now, she's not especially attractive, but she scored both John Cusack and Matt Damon in 1997, although it's not as though people remember this particular affair, with Cusack. The film got surprisingly decent reviews, but I don't think that this film would be all that notable if it didn't have a soundtrack produced by Joe Strummer, as that little fact kind of made someone think about how Strummer looked a little like Cusack. That's a stretch of an assumption, but you know that the filmmakers were thinking that when they commissioned Strummer to do this film's music, because it wasn't clever enough that they titled this film about an assassin visiting Gross Pointe, Michigan, "Grossed Pointe Blank". Oh no, they just had to actually name the assassin in question Martin [u]Blank[/u], just to make the title even more punny. Don't worry, people, because the film itself is a whole lot funnier than that, although it doesn't exactly offer a whole lot beyond that. Yeah, this isn't much more than a mere comedy, and not even that much of a dark one, despite its potentially edgy subject matter, which is ultimately molded into an inconsequential affair that isn't even anything new. Well, maybe there are a few refreshing occasions, though not as many as you might hope, for this is ultimately a formulaic action-comedy which hits more than a few tropes in its progression and in its humor. The formulaic spots in the comedy reflect there being some shortage of inspiration to the humor, which is further reflected by shortcomings in wit, because even though there is plenty of good humor, - much of which is actually clever - just as Robert Ebert said, there stands to be more cleverness and more surprises here. The wit of the film is a little uneven, not unlike the focus of the narrative, which finds itself biting off a touch more than it can chew, in that it runs into plenty of filler which takes you out of the progression of the final product. A sense of progression is further hindered by other excesses in the film, which falls shy of 110 minutes in length, and is forced to get there through some repetitions and do-nothing happenings, as it doesn't have the meat to justify such a length. It is ultimately natural shortcomings that hold this film back, as this comedy chooses to go with the basics, rather than explore its full potential for uniqueness, wit and tension. The final product might very well be forgettable, but while it occupies your time, it holds your attention through all of its shortcomings, even with some sharp musical tastes. Produced by, as put so eloquently by Jakob Dylan, "the mighty" Joe Strummer, this film's strictly unoriginal soundtrack is either underused or overused, but when it is used, it utilizes plenty of entertaining, mostly independent '80s rock tunes to compliment the theme of reminiscing on the '80s, and to help greatly in livening things up. For that, some credit is due to director George Armitage's usage of the soundtrack, although Armitage does not need the music to keep things lively, as his scene structuring and working with humor and performers establishes an immense deal of good, fun charm, punctuated by some thrilling action. I'm a little surprised by how little action there is here, but it sure is worth waiting for, delivering on sharp technical proficiency and tight, dynamic staging which both adds some tension into this inconsequential fluff piece, and marks heights in entertainment value. Of course, as I said, entertainment value is consistent, thanks to Armitage's lively plays on most everything, which keep up a tight sense of pacing that is perhaps needed throughout a questionable course of almost 110 minutes, spawning from an excessive script by ironically does about as much as Armitage's direction. Penned by an arguably overblown team consisting of Tom Jankiewicz, D. V. DeVincentis, Steve Pink, and John Cusack himself, this film's screenplay is nothing if not both overblown, and colorful, being uneven in its wit and originality, but recurrent in its deliverance on sharp little dialogue twists and arguably memorable and decidedly lively set pieces which define much of the entertainment value. Amidst all of the fun is a reasonably interesting, if thin story and well-drawn characters, brought to life by across-the-board charismatic performances, the most engaging of which being by leading man John Cusack, who plays himself, sure, but therefore nails a somewhat grounded, yet still unpredictably colorful charm which makes him a worthy lead. The film is ultimately plenty of fun, and although it's not much more than that, even though it could have been, thrills and charm are realized enough in their unison to a produce a decent, if inconsequential comedy. When the job is done, there's not much new or especially clever about this uneven and overlong telling of a conceptually promising, yet ultimately inconsequential story whose color is done enough justice by a solid soundtrack and action, generally sharp direction and writing, and charismatic performances - especially by John Cusack - to make "Grosse Pointe Blank" a relatively simple, but fun comedy-thriller. 2.5/5 - Fair

An entertaining if completely forgettable and too cute take of an assassin (John Cusack) who comes home to attend his high school reunion, and along the way he tries to relight the flame of a failed relationship with a radio DJ (Minnie Driver), all while trying to dodge a hit placed on him. It starts out fast, funny, and full of dark comedy, but by the time you reach about the 3/4 mark of it, you get the point and wish it would just end already. The perfect example of a movie that feels longer than it really is (only breaking 100 minutes or so). However, these are the kinds of films John Cusack has done his entire career, constantly underselling his outstanding feel for darkness and comedic timing, and instead settling for material that is not deserving of his status. As said, this is an okay film, certainly not bad, but it is just disappointing at the end of it that it has to be completely silly and, in the end, kind of incomprehensible.

First off, I really liked John Cusack in this movie. I think that he is a great and really likable actor and I don't know anyone else that could've pulled off this role. Secondly, Grosse Pointe Blank reminded me of two other hitman-related movies, In Bruges and The Matador. All three sort of play out as black comedies in their own way, and are all very funny, but Grosse Pointe Blank, to me, carries an emotional tone with it that the other two don't quite have. It's characters have a lot of depth. I didn't think that it was a great movie, as some parts kinda didn't feel right, but it was good. Maybe even very good. In the end, Grosse Pointe Blank may be a little bit too sure of itself at times, but it's got a good head on its shoulders and I'm gonna have to recommend it, especially for those shootout scenes. Great entertainment.
See Details