Gun Hill Road
(2011)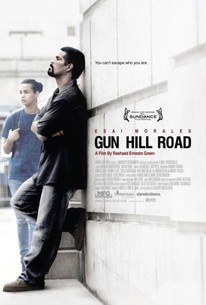 Movie Info
After three years in prison, Enrique (Esai Morales) returns home to the Bronx to find the world he knew has changed. His wife, Angela (Judy Reyes), struggles to hide an emotional affair, and his teenage son, Michael (Harmony Santana), explores a sexual transformation well beyond Enrique's grasp and understanding. Unable to accept his child, Enrique clings to his masculine ideals while Angela attempts to hold the family together by protecting Michael. Still under the watchful eye of his parole officer (Isiah Whitlock, Jr.), Enrique must become the father he needs to be or, once again, risk losing his family and freedom. -- (C) Official Site
Rating:
R (for strong sexual content, language and some violence)
Genre:
Directed By:
Written By:
In Theaters:
On DVD:
Box Office:
$139,013.00
Runtime:
Studio:
News & Interviews for Gun Hill Road
Critic Reviews for Gun Hill Road
Audience Reviews for Gun Hill Road
Enrique returns home from a stint in prison to find his homelife has changed. His wife is hiding an affair she had whilst he was away and his son Michael is going through a sexual/gender awakening. The bigoted father tries hard to grasp hold of his masculine ideals, whilst Angela tries her best to keep her family dynamic together. Though the story of a man returning home from prison to find shit has changed is rather well trodden ground, the tale of Michael's transexuality and the gender politics it brings on is a nice angle. Harmony Santana is a triumph as Michael and gives the character real empathy. The cast as a whole does very well, but I found Enrique's arc to be rather flat and his story should have held equal heading with that of his son. The juxtaposition of the two characters could have been so much more interesting. It just fell a little flat here. An intriguing tale of sexual transformation, but not much more.
Graham Beilby
Esai Morales' character spends half his life in prison, just to finally get out and discover that his wife is having an affair, and his son took the 'The Crying game' far too seriously. 'Gun Hill Road,' while being a family drama, isn't exactly touching, but Esai Morales' does provide a few laughs - unintentional, I'm sure. But the more he discovers about his 'son,' the funnier things seem to get. I couldn't help but feel for the guy - prison may not be the worst thing that could happen to a man.
Bloodmarsh Krackoon
½
"Gun Hill Road" is the debut feature film from writer /director Rashaad Ernesto Green, a Bronx native and graduate of NYU. Filmed on location in the Bronx, it tells the story of an extremely macho ex-con (played adequately by Esai Morales) getting out of prison and returning home. His wife has fallen in love with another man, and his son has become more like a girl than a boy. The film proves that Green has a gift for clear, straightforward story-telling. He also shows a unique cultural understanding, able to see the world through the eyes of both a middle-aged straight man and a transgender teenager. Green also has an eye for talent. His discovery of Harmony Santana, who plays the transgender teen, is perhaps the most significant aspect of the "Gun Hill" project. I found myself in awe on at least five occasions watching Santana bring this character to life. His/her acting at times will take your breath away. I even suspect Santana might get an Oscar nomination. This is a major new talent. I hope Santana's arrival ushers in a new age for transgender actors, who would be uniquely able to bring both male and female characters to life. Trans actors don't have to play trans characters all the time. They can play "regular" men and women, too. I also hope Santana's arrival helps the culture at large get over trans-phobia. Transgender people have been part of the human race since the dawn of our species. Nothing new. Get over it, people. Now for the weaknesses. "Gun Hill Road" may have non-traditional subject matter, but its style is extremely traditional. Green follows the conventions of mainstream story-telling so closely that the film often feels pedestrian, like a TV Movie of the Week about transgender issues. I appreciate Green's bravery in taking on a challenging subject and shooting the film in the Bronx. But why make the story so simple and the filmmaking technique so ordinary? Does Green want to work in cinema or television? It appears like it might be the latter. This is fine, but then his projects should not be shown in cinemas. They belong on the little screen. "Gun Hill Road" may get awards for acting, but I doubt it will be nominated for any filmmaking awards. It's still worth seeing though.
William Dunmyer
Super Reviewer
Gun Hill Road Quotes
There are no approved quotes yet for this movie.
Discussion Forum
Discuss Gun Hill Road on our Movie forum!