Guy and Madeline on a Park Bench
(2010)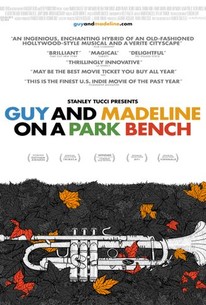 Guy and Madeline on a Park Bench Photos
Movie Info
For his feature debut, writer-director Damien Chazelle has fashioned a contemporary musical, shot in 16 mm black-and-white on the streets of Boston and New York. During the film's opening credits, we learn that Guy (professional musician Jason Palmer), a trumpet player, and Madeline (Desiree Garcia), a grad student looking for work, have broken up. The film then flashes back briefly to show how Guy's dalliance with Elena (Sandha Khin), an outgoing young woman he met on the subway, caused the breakup. The film follows Guy and Madeline as they try to make their way, post-breakup. Guy continues to play his gigs, though Elena doesn't seem quite as interested in his music as Madeline was. Madeline finds a job at the Summer Shack restaurant, pines for Guy, but eventually decides to leave Boston for New York. Guy and Madeline on a Park Bench features music by Justin Hurwitz and a score recorded by the Bratislava Symphony Orchestra. Chazelle, who is also a jazz drummer (he appears briefly in the film), originally made the film as a short for his senior thesis at Harvard, where he studied under documentary filmmaker Robb Moss. Chazelle and his cast and crew worked on the film for three years, as financing permitted, to expand it into a feature. Guy and Madeline on a Park Bench had its world premiere at the 2009 Tribeca Film Festival, where it was shown in the Discovery section.
News & Interviews for Guy and Madeline on a Park Bench
Critic Reviews for Guy and Madeline on a Park Bench
Audience Reviews for Guy and Madeline on a Park Bench
Damien Chazelle's first feature length film isn't an easy one to dissect. Filmed like an early John Cassavetes' movie and told with little to no dialogue at all, Guy and Madeline on a Park Bench is much more so an exploration into how difficult it is to maintain love than it is a musical like Chazelle's latest feature, La La Land. But it's Chazelle's grasp on the ups and down's of relationships that make this yet another interesting directorial effort from him. All 3 of his films to this point have involved Jazz, and all 3 of them have also dealt with characters trying to balance their love life with pursuing their Jazz related dreams. 'Guy and Madeline' isn't as intense as Whiplash nor as viscerally memorable as La La Land, but for a first-time feature, it definitely impresses. An occasional dance number, unique camera movement, and long unedited takes make for quite the viewing experience. Again, there's little dialogue, so I can't say I was as invested in the characters as I should have been, but sometimes scenes are more powerful when less is said (see: the final scene). If anything, this was an interesting watch considering all we know about Chazelle's career up to this point. 6.7/10
Thomas Drufke
Super Reviewer
½
Look, I have a soft spot in my heart for any movie made nowadays in black and white. And it helps that "Guy and Madeline on a Park Bench" has a certain retro charm with its keenly styled musical numbers. But those oh so brief interludes cannot make up for the muddled narrative of the break up of Guy(Jason Palmer), a trumpet player, and Madeline(Desiree Garcia), as they go their separate directions. That's not to mention the amateurish camerawork.
½
Mixing two separate yet compatible elements, Guy and Madeline fuses the cinema verite style of a gritty black and white documentary and the brash tones and rising melodies of an MGM musical, all in one sitting. Though the full impact of said MGM style was lost in the fray of tying the stylings together, the overall effort was astounding. The numbers had an originality that was more Miles Davis than Irving Berlin, which flowed well with the grainy shots of Boston. Threaded into the romantic entanglements of the two main characters was a deep love and appreciation for jazz, fueling the storyline forward by making some of the musical numbers performances that could indeed happen in real life, including a party scene and a jam session. Madeline's two songs on the other hand take place as she walks the streets, and my all-time favorite "When I Kissed the Boy in Park" while closing down a diner she waitresses in. There were some great scenes, including a game of 20 Questions between Elena and a strange old man, and Guy trying to track down Madeline. Altogether, it was confusing when addressing the dying relationships that lead to a reunion of the musicians, but the cute factor kept me watching.
Spencer S.
Super Reviewer
Guy and Madeline on a Park Bench Quotes
There are no approved quotes yet for this movie.