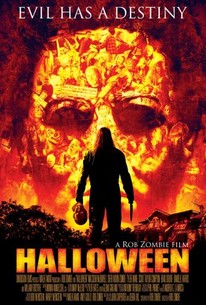 Halloween
2007, Holiday/Horror, 1h 50m
122 Reviews
250,000+ Ratings
What to know
critics consensus
Rob Zombie doesn't bring many new ideas to the table in Halloween, making it another bloody disappointment for fans of the franchise. Read critic reviews
Where to watch
Rent/buy
Rent/buy
Rent/buy
Rate And Review
Movie Info
Nearly two decades after being committed to a mental institution for killing his stepfather and older sister, Michael Myers (Tyler Mane) breaks out, intent on returning to the town of Haddonfield, Ill. He arrives in his hometown on Halloween with the indomitable purpose of hunting down his younger sister, Laurie (Scout Taylor-Compton). The only thing standing between Michael and a Halloween night of bloody carnage is psychologist Dr. Samuel Loomis (Malcolm McDowell).
News & Interviews for Halloween
Audience Reviews for Halloween
I think this is the most personal movie Rob Zombie has ever made. Apparently when he got the nod to make this Halloween reboot, he reached out to John Carpenter for advice, and Carpenter told him "Make it your own." And I think that's exactly what he did. I know nothing about Rob Zombie beyond his awesome music and "grittier than dirt" horror movies. But Michael's "origin story" is the purest vision we've seen from Zombie with all the genre trappings stripped away. No cannibalistic "rejects," clowns, or witches. Just a searing over-the-top look at the making of one of film's most notorious serial killers. When I first watched Halloween in 2007 I didn't like it that much. I liked House of 1000 Corpses and The Devil's Rejects so was expecting a massively twisted rendition of Michael. Instead, a good chunk of the movie is a slow burn perspective of a surprisingly sympathetic pre-teen Michael. This is now my favorite part of the movie. And once we get to the actual "babysitter murders" sequences, it's much more of an homage to Carpenter's original than I would've expected, almost to a fault as it feels less personal to Zombie. It just feels too "conventional" -- something I would never attribute to a Rob Zombie movie. Zombie also needs more credit for his casting choices (other than the ubiquitous Sheri Moon Zombie). Tyler Mane is a BEAST as the elder Michael. And I love how Zombie brings back some of the horror legends into his movies -- Dee Wallace as Laurie Strode's mom, Danielle Harris as Annie, and Ken Foree as "Big Joe Grizzly" (the source of Michael's onesie).

Not so much a remake of Carpenter's classic as it is a counterpoint to it. Where Carpenter's film is sparse on running time, character development, and gore Zombie's version is a lengthy examination of Michael Myers psyche that lingers on its extreme violence. In any case the main reason to watch this is for the sequel.

A interesting but bad take on this iconic horror villain. As the concept seems fresh at first it begins to get worse and worse by edging closer to the end of the film. The not needed Micheal Myers throwback really butchered this film for me along with the over usage of violence and gore over story and suspense which the original did so well. Should've place a little higher maybe a 33% on RT but this is just bland attempt to grab some cash while destroying an iconic antagonist along the way.

The remake digs much farther into Michael Myers's past/childhood with a large portion of the film explaining how he became the way he did. This gave a larger depth to the character in showing his motivations. Zombie did a good job writing this remake which had the spirit of the first film but still stood well enough on its own.
See Details