Hamesha
(1997)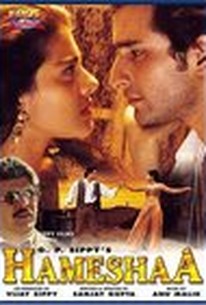 AUDIENCE SCORE
Critic Consensus: No consensus yet.
Movie Info
Two close friends, Yash and Raja, share a passion for cars and beautiful women. Both come from different backgrounds, while Yash is wealthy, Raja comes from a poor family. Raja meets with Reshma, who is attending a nearby college, and falls in love with her. Reshma eventually also falls in love with him. When Yash meets Reshma, he also instantly falls in love with her. When Yash finds out that Reshma loves Raja, he has both of them tragically separated. Several years later, Raja is reborn as Raju, Reshma is reborn as Rani Sharma, and Yash is reborn as Yash Vardhan. And again the three form a love triangle, but will this reincartion too end tragically for the two lovers, is a question only the future can answer.
Critic Reviews for Hamesha
There are no critic reviews yet for Hamesha. Keep checking Rotten Tomatoes for updates!
Audience Reviews for Hamesha
Here is a movie that follows a wily pair of friends, Yash and Raja. Raja has always been a favorite amongst classmates at college, whereas Yash seems to carry a chip on his shoulder without the slightest care in the world for anything at all. One day, Raja meets, and falls in love, with his dream girl, Rani. Under different circumstances, Yash also meets Rani but she feels indifferent to his obsession. As he learns of Rani and Raja?s love, he feels compelled to get rid of Raja permanently. Rani witnesses Raja?s death, and also vows to follow Raja in death and promises that she and Raja would return in another birth. As she insists that their love is infinite, she also vows that she and Raja, together will live in their love. After two decades, Yash finds Reshma (whom has the exact likeness of Rani), and vows that Reshma will be his. Upon his intentions, Reshma begins to realize that her love is declared for only one man, her Raja. Great cast- Kajol Devgan, Saif Ali Khan, Amrish Puri, and Aditya Pancholi. Worth seeing!
Hamesha Quotes
There are no approved quotes yet for this movie.