Hands of the Ripper
(1971)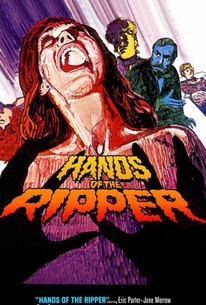 Hands of the Ripper Photos
Movie Info
This clever reworking of the "Jack the Ripper" legend stars Angharad Rees as Anna, daughter of the infamous serial killer. Believing that she's being directed from beyond the grave to become a murderer herself, Anna seeks out help from Freudian scholar John Pritchard (Eric Porter). Evidently, the treatment doesn't take, and a series of gory killings result. TV prints of Hands of the Ripper include an unnecessary "psychiatric explanation" of what transpires. It probably goes without saying that the film was packaged by Hammer Studios.
Critic Reviews for Hands of the Ripper
Audience Reviews for Hands of the Ripper
A more interesting movie than Hammer's typical output at this time this film still has plenty of gore but the use of Freud's theories to diagnose the killer and Porter's sympathetic but misguided doctor suggest that the writer was at least trying something a bit different. The ending in St Paul's is almost operatic and brings a grandiose to the proceedings that is missing from most Hammer of the 70's. There are still plenty of silly bits in there and one gratuitous nudity sequence but otherwise this isn't half bad horror.
David Sayers
Super Reviewer
Made during Hammer's descent into gore (but before their tits and gore last gasp days), "Hands of the Ripper" is a stylish, atmospheric and particularly well acted little horror film. Unlike, say, "To the Devil a Daughter" it actually feels like a Hammer film. Whatever its minor flaws may be are more than redeemed by the fantastic, moving climax. Eric Porter is fucking great.
Hands of the Ripper Quotes
There are no approved quotes yet for this movie.