Harlem Rides The Range
(1939)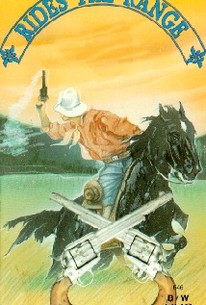 AUDIENCE SCORE
Critic Consensus: No consensus yet.
Harlem Rides The Range Photos
Movie Info
Produced in 1938 at the N.B. Murray dude ranch near Victorville, California, Harlem Rides the Range was the last of three all-black Westerns starring troubadour Herb Jeffries (billed for the occasion Herbert Jeffrey) as cowboy Bob Blake. Blake, on his horse "Stardusk" (!), obtains a job on the ranch belonging to Watson (Spencer Williams of Amos 'n Andy fame). Meanwhile, a neighbor, Dennison (Leonard Christmas), is threatened by Bradley (Clarence Brooks) and his thug Connors (Tom Southern) who want to get their hands of the man's secret radium mine. Leaving Dennison for dead, Bradley schemes to kidnap his daughter Margaret (Artie Young), who is arriving with $6,000 for the mortgage and presumably knows where the secret mine is located. The talkative Connors is killed by his boss, who puts the blame on Blake. Arrested by the sheriff (Wade Dumas), Blake uses his dexterity to break out of jail and arrives just in time to save Margaret from Bradley and his gang. Returning to the Dennison spread, Blake and his sidekick Dusty (Lucius Brooks) find the owner, who has stayed alive by hiding in his underground mine. Jeffries, whose singing was better than his acting, warbled his own I'm a Happy Cowboy (over the opening credits) and Prairie Flower, the latter accompanied by the singing group The Four Tones. Lucius Brooks and Flournoy E. Miller (who wrote his own dialogue) provided the same kind of demeaning comedy that almost all African-Americans were subjected to in the 1930s. Following his brief movie career, Jeffries sang with the Duke Ellington orchestra and ran a nightclub in Paris, France.
Critic Reviews for Harlem Rides The Range
Audience Reviews for Harlem Rides The Range
½
This movie was made in 1939. It has an all Black Cast. From the Singing Cowboy with a white hat and horse, to the bad guys, to the ranch owner. Filmed during a time when Black Movie seekers were not allowed in White theaters. So low budget films were made, and to be completely honest with you I never knew a film like this existed and am very surprised its on the market today. The sound and film quality are bad, but it still is useable. What we have here is no more then a Roy Rogers / Gene Autry type film with all black actors, right down to the singing cowboy. who is played by Herb Jeffries. Also the music of the Four Tones is played during the film. The plot is a cowhand finds a radium mine and some bad guys come along and try to steal his mine after murdering him, his daughter shows up and our singing cowboy is in love, we also have a comical sidekick, All in all a good movie for a classic and I mean classic buff, good harmless comedy. 2 1/2 stars because of the film quality.
Bruce Bruce
Super Reviewer
Harlem Rides The Range Quotes
There are no approved quotes yet for this movie.
Discussion Forum
Discuss Harlem Rides The Range on our Movie forum!