Harry Dean Stanton: Partly Fiction
(2013)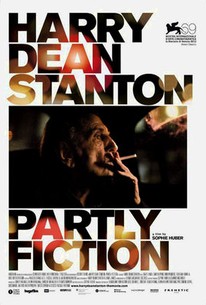 Harry Dean Stanton: Partly Fiction Photos
Movie Info
HARRY DEAN STANTON: PARTLY FICTION is a mesmerizing, impressionistic portrait of the iconic actor comprised of intimate moments, film clips from some of his 250 films and his own heart-breaking renditions of American folk songs. Stunningly lensed in color and black and white by Seamus McGarvey, the film explores the actor's enigmatic outlook on his life, his unexploited talents as a musician, and includes candid reminiscences by David Lynch, Wim Wenders, Sam Shepard, Kris Kristofferson and Debbie Harry. The fragile soul of an actor emerges from the poignant collage. Uncensored, unguarded moments with wry humor pockmark scenes filmed at locations including Stanton's home and his favorite local watering hole, Dan Tana's in West Hollywood. Stanton discusses his friends Marlon Brando, Jack Nicholson, how his family influenced his musical leanings, the women he almost wed, and his preference for film over theatre. In the end it is an unflinching, unabashed, romantic Valentine from one artist to another, from a galvanizing truth teller to a yarn-spinning survivor. (c) Adopt
News & Interviews for Harry Dean Stanton: Partly Fiction
Critic Reviews for Harry Dean Stanton: Partly Fiction
Audience Reviews for Harry Dean Stanton: Partly Fiction
Impressionistic pastiche of the career of cult character actor Harry Dean Stanton (PARIS, TEXAS; REPO MAN), with terse interviews, conversations with collaborators like David Lynch and Kris Kristofferson, film clips, and lots of folksinging from Stanton (whose voice is just OK). Stanton cultivates a mystical persona and prefers to give vague, Zen-like answers to questions, so the film struggles mightily to build a portrait of the real man behind the image. The ratio of insight to folk songs is unfavorable.
Legendary character actor, Harry Dean Stanton, is not the most obvious choice of subject for a documentary. Most often stoic, even in his seemingly endless film appearances, his lack of any sort of outgoing personality wouldn't seem to make for a compelling movie. The opposite, however, is true. Hauntingly shot by the great cinematographer, Seamus McGarvey (ATONEMENT, ANNA KARENINA, THE HOURS) and intimately directed by Sophie Huber, HARRY DEAN STANTON: PARTLY FICTION is a look at a famous person who refuses to be a fame whore. A great companion piece to GOOD OL' FRIEDA, about the Beatles' secretary, who refused to sell out, here's a deceptively simple doc about a man who reveals so much by revealing so little. NEBRASKA also comes to mind here, as both seem to be studies in elderly people who mourn the loss of a world where restraint was a virtue. Kinda puts every sass-talking, finger-wagging reality star to shame, no? At age 87, Stanton may be old, but he's never really changed. He merely grew into the face he's always had, and he's remained the man he's always aspired towards. Virtually free of ego, when asked how he wants to be remembered, he tellingly replies, "Doesn't matter". Instead, Stanton reveals himself through the many haunting folk songs he sings in the film. In startlingly beautiful close-up, sometimes passionately playing harmonica, Huber proves that a picture truly is worth a thousand words. More expressionistic portrait than true documentary, the film interweaves scenes from his long career with his singing and with interviews/conversations with his collaborators, such as David Lynch, Wim Wenders, and others. Try as they may to get him to open up, Stanton remains true to himself - genial, reserved and keenly aware that his life story is written all over his face. Sure, this is fairly thin, slow, and lacking in any real incident, but it's kind of the point. Side Note: I had the honor of working with Harry Dean Stanton many years ago on a small indie called TWISTER (not the Helen Hunt/Bill Paxton blockbuster). I was the Production Accountant and my interactions with him with limited to "Here's your per diem, sir". His response, "Thank you." I think he spoke with me more than he did with the director!
Glenn Gaylord
Super Reviewer
A fascinating documentary based on one of the longest running actors around; Harry Dean Stanton. While giving information on his famous acting career, the real focus in this feature is his lesser known career as a country singer. And he's a very good one indeed. The film talks of how most of how most of his songs reflect certain aspects of his life and you can really see and hear the emotion as he sings each lyric. I also admire how they point out one of Stanton's specialities, as an actor, of how he doesn't think on his lines and pretty much presents them so naturally that they don't feel scripted. As a fan of Harry Dean Stanton, I went to see it during the Sensoria Film Festival weekend, and I more than appreciated it. Even if you don't know very much on Stanton, this documentary is still worth a try if you want to learn more on this superb musician/actor.
Samuel Riley
Super Reviewer
Harry Dean Stanton: Partly Fiction Quotes
There are no approved quotes yet for this movie.