Harvard Beats Yale 29-29
(2008)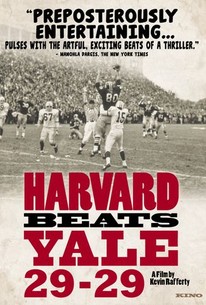 TOMATOMETER
AUDIENCE SCORE
Critic Consensus: Harvard Beats Yale 29-29 is compelling viewing even though it spoils the score of the titular college football matchup - and even if you aren't a fan of the sport.
Harvard Beats Yale 29-29 Photos
Movie Info
Kevin Rafferty's documentary Harvard Beats Yale 29-29 looks at this historic 1968 matchup between those two longtime college football rivals. Many recall that year's edition of this annual grudge match as it was the first time in almost six decades that both schools were undefeated going into the game. The filmmakers utilize archival footage, and intercut it with new interview footage provided by many of those who played a part in that memorable game. ~ Perry Seibert, Rovi
Critic Reviews for Harvard Beats Yale 29-29
Audience Reviews for Harvard Beats Yale 29-29
½
Harvard Beats Yale 29-29 is weirdly entertaining. It somehow pulls off something that I didn't believe it could. It's actually suspenseful hearing how this game played out, which is ridiculous since the final score is already known. Also there are no gimmicks here. It's game footage and interviews with dull Yale and Harvard graduates. There's no slick filmmaking involved and the documentary is better for it. The director just let the players tell the story and it's entertaining to listen to. We can hear the pain in some of the Yale players voices when they talk about mistakes that they made that effected the outcome of the game. We see the joy in the Harvard players as they recall the comeback. This game has stuck with them and they remember every detail and now we get to learn about the details.
Melvin White
Super Reviewer
A fascinating sports documentary which, if nothing else, is demonstrable proof that Harvard is cooler than Yale. The game itself had a great narrative but the most interesting stuff here is about the culture of the era and the incredibly important people associated with both schools that would come to shape our world.
Nate Harris
Super Reviewer
½
"Harvard Beats Yale 29-29" is an entertaining [font=Comic Sans MS]documentary[/font] about the Harvard-Yale football game played on November 23, 1968. While at the time both teams were undefeated, Yale was a powerhouse, ranked #16 in the country behind the offense led by Brian Dowling and Calvin Hill. Brian Dowling was the inspiration for the character B.D. in "Doonesbury." While most of the players involved are interviewed for the film(Calvin Hill is a notable exception), it still would have been nice to have heard from Garry Trudeau to get his viewpoint. What these interviews show is a diverse group of players from many different backgrounds and parts of the country. These recollections serve as the heart of the movie as they are compared to the game film and it is very interesting to see how a player's team might affect his particular viewpoint.(That having been said, one Yale player is very, very honest.) And since this is 1968 that is being discussed, this could also serve as a microcosm of a society that was divided for and against the Vietnam War. However, the players in the film all were united in their opposition, even with some having served there. What the documentary is lacking is putting this game into the context of Ivy League football history. For example, I remember reading a New York Times article a while back on how Ivy League football now does not matter anywhere near as much it once did when the campuses of Harvard and Yale were all male. In 1968 there were still ties in college football, allowing both teams to celebrate a game well played. Note: My normal computer is not currently working, so there may be technical difficulties for the near future.
Harvard Beats Yale 29-29 Quotes
There are no approved quotes yet for this movie.