Headin' Home
(1920)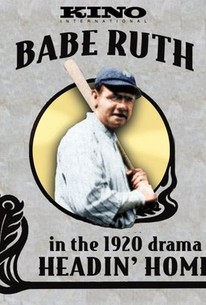 AUDIENCE SCORE
Critic Consensus: No consensus yet.
Movie Info
The sole purpose of this picture was to make money exploiting the "King of Swat," Babe Ruth, in his motion picture debut. The baseball hero plays a character, appropriately named Babe, a country boy who the locals consider useless. He thinks he's got some batting talent, but no one will take him seriously until a rival team comes to town and engages him when their one of their own players can't make it. Babe hits a ball that soars five blocks and smashes through a church window. From that point on, his future fame is assure d. Along the way, he foils the villain -- the local pitcher who does a bit of embezzling on the side (William Sheer) -- and wins the banker's daughter, Mildred (Ruth Taylor). Lawrence Windom directed the picture under the supervision of Raoul Walsh. The sporty subject matter was right up Walsh's alley, but even he couldn't do anything with this silly story, and Ruth was no actor. Its sole saving grace were witty title cards courtesy of Bugs Baer.
Critic Reviews for Headin' Home
All Critics (2) | Fresh (2) | Rotten (0)
An odd film with little story, Headin' Home has a big place in sports history, offering an early look at Babe Ruth.
It's a one of a kind film, whose novelty makes it a keeper.
Audience Reviews for Headin' Home
½
The first movie of Babe Ruth's not-so-illustrious acting career is this wheezy silent about a small-town lad becoming a big-time slugger. Ruth portrays someone named "Babe," but the character's cornball backstory has little to do with Ruth's own history. This Babe is no troubled orphan, but a polite mama's boy with a homemade bat and a spunky younger sister named -- get this -- "Pigtails." Ruth flashes none of the wisecracking charisma you'll hope to see, and there isn't even any notable footage of him playing ball. Meanwhile, the title cards izz all written inna contrived, po-folks dialect that culdn't bee mo' condescendin' to th' movie's target audience. Fer heaven's sake, th' Babe deserved better than this.
Eric Broome
Super Reviewer
Headin' Home Quotes
There are no approved quotes yet for this movie.
Discussion Forum
Discuss Headin' Home on our Movie forum!