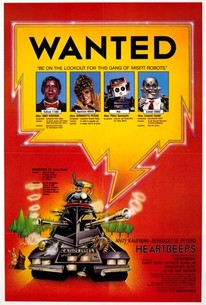 Heartbeeps
1981, Comedy, 1h 19m
6 Reviews
1,000+ Ratings
Where to watch
Rent/buy
Rent/buy
Rent/buy
Rate And Review
Movie Info
While at the repair factory, Val (Andy Kaufman), a robot valet, meets Aqua (Bernadette Peters), a fellow automaton who functions as a party hostess. Remarkably, the two robots discover that they are in love, and impulsively flee from their duties. Looking for a place where they can establish a home, Val and Aqua create their own mechanized child, but their happiness is short-lived, since a relentless enforcer robot has been programmed to apprehend them.
Audience Reviews for Heartbeeps
Dispite all the terrible reviews about this film, Heartbeeps become an interesting, cute and entertaining rare romantic sci-fi comedy. Some people might find this classic cult a likable picture, specially, if you're an Andy Kaufman fan, just like I'm.

A very silly, stupid, over the top movie about robots who have feelings and run away from the factory and fall in love. It's not bad, it's even funny at times, but overall it's just okay.

Heartbeeps is the story of two robots (Andy Kaufman and Bernadette Peters) that meet in a factory, fall in love, and build a baby. Oh, and they're being chased by a poor man's Robocop. Now you can guess how great a movie it is by this point. Many of you have probably never heard of this one, even if it does have the legendary Dick Miller in a cameo as a security guard or an early appearance by serial hotel stiffer Randy Quaid. Now for the skivvy. This movie sucks. And I don't mean boring, horrible acting, dialogue, and all that stuff. I mean that it sucks like getting in a nail gun accident or being Tiger Woods. The only good thing about this movie is its running time (79 minutes) meaning that you only cringe for a little over an hour. The wonderful dialogue about circuits and power packs will bore you to tears and a plot where they take a walk through the woods then walk back is as eventful as waiting in line for the portapotty at a music festival, which also has one other thing in common in that they are both full of shit. This movie should be avoided at all costs. If you see it in a video store it must be destroyed. Fire works best, although I have seen garbage disposals work just as well.
See Details