Hell
(2011)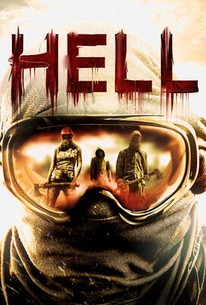 AUDIENCE SCORE
Critic Consensus: No consensus yet.
Movie Info
As the sun scorches the earth, threatening to wipe out all life on the planet, desperate survivors Philip, Marie, and her younger sister Leonie race to reach a water reservoir rumored to be nestled deep in the mountains. Making the acquaintance of a lone mechanic named Tom as they head towards the mountains in a specially outfitted car, the trio must fight for their lives after being drawn into an ambush.
Critic Reviews for Hell
All Critics (2) | Fresh (1) | Rotten (1)
A short, sharp shock of downbeat but compelling apocalypse fiction.
High-concept Hell leans toward stranger-danger slasher horror and amounts to little more than sinister mountain-men hell-bent on killing along the lines of a Wrong Turn movie by way of House of 1000 Corpses.
Audience Reviews for Hell
Decent German post-apocalyptic thriller that set in a world where temperatures have risen and even middle Europe has dried out. As a small group of survivors try to make their way to the supposedly wetter mountains they have to deal with hostile locals. The atmosphere, cinematography and acting is great, but the really convincing first half doesn't entirely go anywhere. There are moments of real tension and even horror, but once it ends you feel they could have done even more with the premise. Still, worth checking out.
Hell is a story about a post apocalyptic world, where the sun has became the worst enemy of mankind, making earth uninhabitable with it's intense flare. Survivors attempt to find a rumored place where there is water, but before they can reach it, real survival has just began. The film was interesting, it had an inventive premise, the first half of the film looked extremely realistic, not just with the atmosphere and set, but with the human interactions. But then it soon fell into the pitfall of cliche horror film, much like frontiers.
Sylvester Kuo
Super Reviewer
An interesting concept with a successful first half that sadly falls back on staples of too many horror films; escapes from captors, chases in woods, and rites-of-passage. The film remains visually interesting and is well enough acted to make it worth a watch.
Daniel Parsons
Super Reviewer
Hell Quotes
There are no approved quotes yet for this movie.