Hell Asylum
(2002)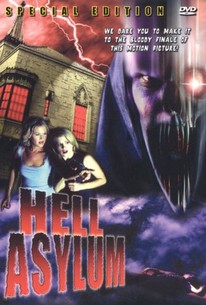 AUDIENCE SCORE
Critic Consensus: No consensus yet.
Movie Info
Initially conceived as a sequel to David DeCoteau's amusing Prison of the Dead (2000), this straight-to-video horror film was written by minor cult actor Trent Haaga. The story line posits a new reality-based television series along the lines of Fear Factor in which five attractive models must spend the night in a haunted asylum for a million-dollar prize. There's a greedy producer who sets booby-traps for the girls along the way, not knowing that there is a real presence in the hospital -- the ghost of an evil millionaire who had kidnapped several young women years before, hoping to force them to marry him. The contestants make confessions to the cameras strategically placed within, only to have their deepest fears used against them by the malevolent ghost. Joe Estevez shows up as well, adding a small bit of name value to a cast including Debra Mayer, Tanya Dempsey, and Stacey Scowley. This was one of several collaborations between B-movie moguls J.R. Bookwalter and Charles Band, concluding with Dead & Rotting the same year.
Critic Reviews for Hell Asylum
There are no critic reviews yet for Hell Asylum. Keep checking Rotten Tomatoes for updates!
Audience Reviews for Hell Asylum
This is a pretty wild film, but then again anything from Full Moon Pictures is usually pretty wild. Don't go over board to get this one. What we have here is a game show called Chill Challenge where 5 sexy ladies are locked in a haunted house to see who wins a million bucks, reality TV, but like most reality TV its rigged, and one of the girls id the directors girlfriend so the million is safe, so we think, but the girls are getting knocked off one by one, by some grim reaper looking dudes that really take away from the movie. But we have some regular horror story babes un this one, Tanya Dempsey and Debra Mayer. Even our porn star Brinke Steves (hey a girls gotta make a buck.) Still I can only give it 3 stars, if we had a different slashed then grim reaper dudes that eat intestines, then it would have got more.
Bruce Bruce
Super Reviewer
A dreadful effort from Film 2000, who else! This is sooo poor and looks very amateur!
Hell Asylum Quotes
There are no approved quotes yet for this movie.