Asylum of the Damned
(2003)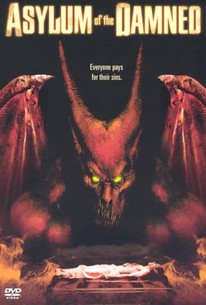 AUDIENCE SCORE
Critic Consensus: No consensus yet.
Asylum of the Damned Videos
Asylum of the Damned Photos
Movie Info
Phil Jones' horror film Asylum of the Damned starts with Dr. James Bishop being appointed to work at St. Andrews Asylum for the Criminally Insane. He begins the job full of optimism, but soon he discovers the dangers of his professions when he becomes involved with "The Harvester."
Critic Reviews for Asylum of the Damned
There are no critic reviews yet for Asylum of the Damned. Keep checking Rotten Tomatoes for updates!
Audience Reviews for Asylum of the Damned
This movie is a sleeper and what I mean by that is, it's unheard of and when a few more people watch it and get the word out there it will take off. I really enjoyed it. I picked my copy up in a pawn shop and I am glad I did. A student doctor goes to local insane asylum to complete his studies, there he finds some pretty weird stuff, like people being fed to a harvester, which I must admit is pretty scary looking. Julie Lee plays the students girlfriend, she is beautiful. And Tommy Tiny Lister plays Smithy who really adds to the movie. The ending is no surprise, typical, but still a good suspense horror movie. This movie is also know as Hellborn. I have to give it 4 stars, and its a good one to add to the collection.
Bruce Bruce
Super Reviewer
½
Asylum of the Damned (aka "Hell Born") Starring: Matt Stasi, Bruce Payne, Tom Lister, Gregory Wagrowski, and Tracy Scroggins Director: Phil Jones When James Bishop (Stasi) goes from run-of-the-mill resident to supervisor of a ward at St. Andrews' State Mental Hospital straight ouf of medical school, he thinks his career is off to a rocketing start. However, he soon discovers this mental hospital is a little more hellish than most... and that a demonic cult is feeding the patients to a demon in the hospital's basement. "Asylum of the Damned" features a lazily written, badly researched script--from presenting a plot that only works because our hero behaves stupidly from the outset, to presenting us with a hospital so badly run that even the demon in the basement wouldn't be able to save its director (Payne) from being invesitgated by any number of regulatory commisions--that features dialogue that's so tortured at times that the writer must have been emulating Ed Wood. The film also fails utterly to do what a horror film set against a modern backdrop absolutely must to in order to work: The film never bothers to ground itself in anything that resembles normality. It is groan-inducingly unbelievalbe from the outset. The creepy way the hospital is presented as soon as our hero arrives, and the behavior of the staff--from the security guard to the head doctor--is so rude and unprofessional from their first appearances that it's plain the viewer is in for something very awful... and it guarentees the fillm's failure. The overblown attempts at establishing a menacing air IMMEDIATELY in the film means that no true menace is ever really felt--even the hackneyed "gotcha!" scares fail to work, because the film's beginning is so badly botched. It's a shame the direction and scripting of this movie was so severely botched, because the cast actually did a fairly good decent job. If these actors were assembled for a film with a script that was perhaps taken through a second draft before filming started, and if they were in a fillm that actually had a first act, I think they might be able to impress. The creature design was also excellent--the soul-eating demon in the hospital's basement is far better looking than I would have expected in a rancid turkey like this. It's the one thing in the film that will make you sit up and go "wow!' Of course, I don't recommend you ever take the opportunity to view that demon, because "Asylum of the Damned" is so weak a movie that I don't think it's even suitable for a Bad Movie Nite. It's not bad enough to be good in that sense.
Steve Miller
½
[font=Arial Black][img]http://www.lasersedge.com/gfx/1/front/54310.jpg[/img][/font] [font=Arial Black]Plot: James Bishop (Matt Stasi) thought he was about to start his dream job - instead he was headed for his worst nightmare. When Bishop is hired as the newest doctor at the St. Andrews Asylum for the Criminally Insane, he is ready to change the world. But it is quickly revealed that something is horribly wrong at St. Andrews.[/font] [font=Arial Black][/font] [font=Arial Black]Review: What can I say bout this movie "Asylum of the Damned" but it's really not a good horror movie. As bad as it was it was entertaining enuff to kill sum time. It had a couple good scares but it was not enuff especially if ur doin a movie bout demon's and cult's in a Insane asylum. The acting was horrible and the dialogue was cheesy. The one actor I did like was Bruce Payne who play's Dr. Cort, a doctor and leader of the cult, he gave a good performance even wit the little he was working wit. There's even an appearance from Tommy "Tiny" Lister Jr. who plays Smithty, a blind patient in the asylum and help's the new doctor James Bishop, it was painful to watch him act, now I no why he doesn't have a lot of lines in all of his movies he's in. Overall it's a bad predictable horror and the movie is unintentionally funny cuz of the unbelievable story line's like when James Bishop is almost about to escape from the cult he run's back to get the stupid files he left and when J. Bishop's fiance visit's the asylum at the wrong time, exactly when everything is about to go down (perfect timing), dat's just a few. This movie is not worth paying for at any amount. Check it out on cable or get it 4 free somehow if u really have nothing to do and wanna laugh at how bad the movie is or for the B movie horror fanatics.[/font]
Sammy Ruiz
Asylum of the Damned Quotes
There are no approved quotes yet for this movie.
Discussion Forum
Discuss Asylum of the Damned on our Movie forum!