Hellraiser: Deader
(2005)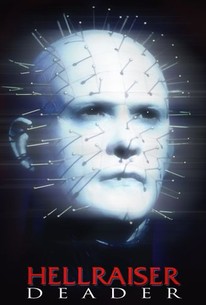 Hellraiser: Deader Photos
Movie Info
The cenobites are back and they're bringing an army of the dead to create hell on earth on the latest installment of the long-running Hellraiser series. After viewing a mysterious videotape showcasing a shocking act of death and resurrection, undercover reporter Amy Klein (Kari Wuhrer) soon learns of an underground group who possesses the power to restore life to the dead. Soon deeply entangled in the group's malevolent experiments with the afterlife, Amy finds herself caught in a life-or-death struggle that threatens to tear her soul apart.
News & Interviews for Hellraiser: Deader
Critic Reviews for Hellraiser: Deader
Audience Reviews for Hellraiser: Deader
It is like two completely different - but equally awful - ideas/stories that got stitched together into an incomprehensible movie that makes no sense, and to top all that the dialogue is just as awful, as well as the amateurish direction, cinematography and editing.
Carlos Magalhães
Super Reviewer
Deader is another bland sequel in the dying Hellraiser franchise. I mean, there were some good entries in this series, but why keep making these films if you've run out of ideas? Sure it's always to cash in for a quick buck, but if you can't make a good flick, why even bother? The films are simply not entertaining anymore. What we get is a boring, tired entry in the franchise that really doesn't cut it. I felt it was a bad way to deliver a sequel. Pinhead is no longer a main character, which is a shame, because of course in the Hellraiser series, Pinhead is the main antagonist. This is boring without Pinhead as the main focus of the story. There's nothing that works with this film, and therefore it's not worth your time. This entry is poorly constructed and therefore lacks the sparks that sequels such as Bloodline and Inferno had. This film doesn't deliver anything new to the franchise. What this film gives us, is uninspired ideas that simply don't work for the audience. If you're a Hellraiser nut, you may enjoy this, but to those who lost interest in the series, you may want to skip on this one. Deader is a dud right from the beginning and it's a low budget, cheaply made sequel to a franchise that should have ended long ago. You won't find anything good here, you'll surely just be disappointed by this bland sequel.
½
Well finally "Hellraiser: Deader" has arrived after a few years gathering dust on the shelf. I agree with other members that it does seem to breathe some life in to this once outstanding franchise, but as with the other sequels it just lacks what the earlier films had in abundance. My personal view is that you can really tell that this wasn't written as a "Hellraiser" film. For the first half hour or so except with the odd reference to "The Box" this could have been any other horror film and it kind of remains that way throughout. The one thing really missing for me as with "Hellraiser: Inferno" and "Hellraiser: Hellseaker" is we just don't see enough of the "Cenobites". I don't just mean "Pinhead" I mean all of them. You see a few glancing shots of them, but I'm sorry its just not enough. Its does seem a waste not giving them screen time. There are 6 "Cenobites" in this movie ("Pinhead", "Chatterer", "Bound", "Stitch", "Little Sister") & ("Spike" in the bonus material!) why are all these needed for 5 minutes of screen time? To be fair they did seem to play a bigger part in this than Parts V or VI, however they have almost become extras or cameos these days. I have read a few comments from other users saying that these films are not about "Pinhead" but there is a reason he has been in all of the franchise to date. I agree that one of the strengths of "Hellraiser" is they are stand alone stories, but in any franchise you need a recurring factor and the "Cenobites" and in particular "Pinhead" is it. The "Cenobites" are "Hellraiser", which is why the later films don't feel like "Hellraiser" movies at all. "Hellraiser: Deader" is a good and one of the better sequels to date and should give all fans hope for "Hellraiser: Hellworld" but as I remarked with "Hellraiser: Hellseaker" the fleeting glimpses of the "Cenobites" just are not enough. Get back to the essence of the movies and set the story around them or let them play a major part again. The later films in this series sadly, could have been so much more.
Cassandra Maples
Super Reviewer
Hellraiser: Deader Quotes
| | |
| --- | --- |
| Pinhead: | Don't think for a moment you are not in danger |
| Pinhead: | Don't think for a moment you are not in danger. |