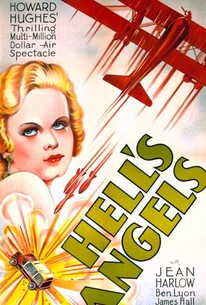 Hell's Angels
1930, War, 2h 15m
16 Reviews
1,000+ Ratings
Rate And Review
Movie Info
As World War I breaks out in Europe, Roy (James Hall) and Monte (Ben Lyon), two brothers studying at Oxford University, enlist in the Royal Flying Corps to fight for queen and country, while their college friend Karl is drafted in Germany. A love triangle involving Monte, Roy, and Roy's girlfriend, Helen (Jean Harlow), the brothers' disparate personalities, and Monte's cowardice in the face of war soon threaten to compromise a top-secret bombing mission over German territory.
Audience Reviews for Hell's Angels
A terrific film and maybe one of my favs. I enjoyed the film immensely, particularly the the omminous Zepplin scene and the ariel dog fights. The story is flat but I was aware of the brother relationship between Roy (James Hall) and Monte Rutledge (Ben Lyon). "Hell's Angels" was quite brave in it's frank talk of sexuality, swearing and machismo behavior. I noticed Martin Scorsese took clips from Hughes's "Hells Angels" picture and incorporated into his film "The Aviator". If it wasn't for Scorsese's film I would not know of the picture and it's amazing. Roy (James Hall) and Monte Rutledge (Ben Lyon) Monte and Roy Rutledge, a couple of British brothers who drop out of Oxford to join the British Royal Flying Corps. Several early scenes establish Lyon and Hall's romantic rivalry over two-timing socialite Helen (Jean Harlow). While flying a dangerous bombing mission over Germany, the brothers are shot down. The commandant (Lucien Prival), who'd earlier been cuckolded by one of the brothers, savors his opportunity for revenge. He offers the boys their freedom if they'll reveal the time of the next British attack; if they don't cooperate, they face unspeakable consequences. Roy, driven mad by his combat experiences, is about to tell all when he is shot and killed by Monte. The latter is himself condemned to a firing squad by the disgruntled commandant -- who, it is implied, will soon meet his own doom at the hands of the British bombers.

I can't believe how well this movie has held up over almost 100 years. One of the earliest sound pictures, and it still fairly explodes off the screen. Everyone talks about the gripping aerial sequences, which deserve their sterling reputation. But I was also floored by Jean Harlow's almost demonic portrayal of a sex-crazed woman with no allegiance to anything but her own pleasure. I can see why there were calls for censorship shortly after this picture was released. Also captivating were some of the dramatic sequences, such as the murder of the German soldier dangling from the zeppelin. Director Howard Hughes demonstrates mastery of story-telling in some of these sequences. The final sequence involving the lead character shooting his own brother was immensely powerful. Anyone who cares about cinema's history has to put "Hell's Angels" on their must-see list. It is shocking that it didn't receive a Best Picture nomination in 1930. Preposterous. Hollywood must have felt incredibly jealous of Hughes, just as they were jealous of Orson Welles 10 years later. I am sure Welles considered Hughes a hero and inspiration.

Of interest more as a historical landmark than a great film. The aerial scenes are very impressive especially those in rudimentary color but the acting of the leads keeps the film from being remarkable. An 18 year old Jean Harlow is very green as a high society jezebel but holds the screen with the magnetism of a star plus it is the only chance to see what she looked like in color which in a strange way makes her more real even if the color is garish. The same can not be said of her co-stars. Both Hall and Lyon have moments that register however by and large they are stiff and dull, you have to wonder how much better this would have been with Gable & Spencer Tracy or James Cagney in the leads. John Darrow is good as Karl but his part is small. It's easy to see why this was a big hit on release just as talkies were dawning but now it is more of an artifact of time and place that a compelling viewing experience.

Seen it a while back, can't remember anything about it, so it wasn't that special. What's really cool, is the true story behind the movie. Howard Hughes (the director) could've been considered a wealthy madman, a narcissist with what they call a Compulsive Disorder these days. Can't wait to start on that book about him: Howard Hughes - His Life and Madness.
See Details