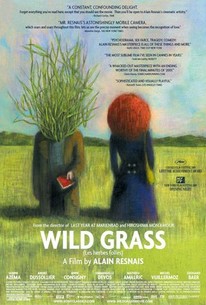 Wild Grass
2009, Drama, 1h 44m
92 Reviews
1,000+ Ratings
What to know
Critics Consensus
Precious to a fault, Wild Grass finds 88-year-old director Alain Resnais as joyously unconstrained as ever. Read critic reviews
Where to watch
Rent/buy
Rent/buy
Rent/buy
Rate And Review
Movie Info
Georges Palet (André Dussollier) comes across a woman's wallet and turns it over to the authorities. Informed that the missing item has been located, Marguerite Muir (Sabine Azéma) retrieves the wallet and asks who found it. She calls to thank Georges, but he wants more than a pat on the back. Though he's married, Georges begins to follow Marguerite, demanding that they spend time together. She finally agrees, setting in motion a relationship marked by emotional turbulence.
Rating: PG (Some Thematic Material|Language|Brief Smoking)

Genre: Drama

Original Language: French (France)

Director: Alain Resnais

Producer: Jean-Louis Livi

Writer: Alex Reval, Laurent Herbiet

Release Date (Theaters): limited

Release Date (Streaming):

Box Office (Gross USA): $403.6K

Runtime:

Distributor: Sony Pictures Classics
News & Interviews for Wild Grass
Audience Reviews for Wild Grass
A man haltingly pursues a woman whose wallet he found. If this is the French New Wave, then I should start watching the Old Wave. In <i>Wild Grass</i> there is so little attention paid to good exposition that I found myself lost, wondering about the characters' relationships to each other even after the first act was a memory. And the performance by Andre Dussolier does little to reveal his character's motivations. Performances like these are good when the story is clear and solid, but Resnais's concentration is on that which is unclear, so the sum is a character who behaves strangely but whose motivations for his strangeness remain a mystery, unconnected to the random shots of weeds. And when he yells and snaps in a romantic story we wonder what the whole point is. Overall, there are people who find this absurdist alienation interesting and refreshing, but I'm not one of them.

There is a notion to make over 65's retake their driving test for fear they have become dangerous to other road users and themselves. I fear a similar test for senility may be required for revered auteur filmakers to protect their legacy. This film is utterly atrocious in almost every way (the score is ok). Presumably the distinguished cast and crew deferred to Resnais' every whim no matter how crackpot on account of his presumed 'genius'. The list of flaws is endless but succinctly, it seems to condone violent stalking and sexual assault by married octagenarian leches (who bizarrly are supposed to be 50) - women might initially be resistant to one's advances but hold out and then you can ignore them when finally they wake up and see your obvious (?) charms. I sincerely hope for Resnais that this is not thinly veiled autobiography. The characters are totally miscast and unbelievably inconsistent and insincere, the plot makes no sense, tonally it shifts from thrilller to drama to sex farce at will .............. I could go on - almost worth seeing as a spectacle of ineptitude.

Kaleidoscopic, bizarre, and finally, maddening. Wild Grass started out as a realistic examination of characters – with some surrealistic undercurrents – through a serendipitous intersection before careening off a cliff into a canyon of WTF. Early on, there was some darkness in the stalker quality with which Georges Palet wanted to know more about Marguerite Muir's life, after he recovered her stolen wallet. But the film simply refused to go anywhere with this approach. It started observational and oddly charming, if not slightly disturbing, but slowly grew exasperating. The film totally whiffs attempting whimsy in trying to build a connection between Georges and Marguerite where it should've been, you know, building their characters. Oh, and by the way, Georges has a wife, and she knows about his apparent longing for Marguerite, but she has this knowing about Georges and his (never-revealed) dark past that makes the courtship – or whatever you want to call it – something that's understood, if not a bit sad to her. And Marguerite has a friend, too, that somehow weaves herself as a primary character in the story, and yet I'm not sure why. In fact, at some point, the movie loses nearly all hinges, and practically becomes a parody of European arthouse cinema. Colorful, yes, but about as nourishing as lollipop regurgitation. Forget about incomplete character arcs and under- and un-developed characters; this movie ventures into a quiet absurdism where characters seem to do whatever, and things happen onscreen, but nothing is really tethered together with any kind of logic. But hey, pretty colors! Interstitial scenes of grass outgrowths on sidewalks (er, wild grass?)! Actresses that look like the French Tea Leoni (this is a good thing), French Idina Menzel, and a French muppet! So yeah, pretty disappointing considering the buzz I had heard going in. The final amusement of the film is that it may have oddly given me everything that I ever wanted for these characters: violent, violent death. Well, at least the possibility of it (the "how" and "why" of this will be explained in the film). Hey, a guy can hope.

"Wild Grass" starts with Marguerite(Sabine Azema), a dentist, going shoe shopping. After she leaves the store, her purse is snatched and she returns the shoes to the store, needing the money to get home. However, she does not call the police, preferring to soak in her bathtub instead. Georges(Andre Dussollier), an ex-convict who has been married for 30 years to Suzanne(Anne Consigny), prefers to get a new battery for his watch instead of buying a new one. When returning to his car, he finds Marguerite's wallet, containing her pilot's license. After debating about what to do and trying to call her, he returns the wallet to the local police station. Directed by Alain Resnais, "Wild Grass" is an engaging and light movie about obsession. It is never made clear what Georges went to prison for(that's okay), just that it is violent and quite possibly memorable. He still has violent thoughts, especially on petty items like women who wear black underwear with white pants after Labor Day. Like somebody who has been out of circulation for a while, he has trouble adjusting to the new world he finds, preferring a manual lawnmower and old movies.(Next time, please don't give away the ending.) So, his journey takes on a circular path towards a fake ending, before a real one and one truly enigmatic piece of dialogue that makes perfect sense if you think about it a little.
See Details