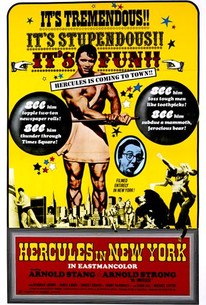 Hercules in New York
1970, Comedy, 1h 30m
7 Reviews
5,000+ Ratings
Where to watch
Rent/buy
Rent/buy
Rent/buy
Rate And Review
Hercules in New York Photos
Movie Info
Banished Hercules (Arnold Schwarzenegger) catches an escaped bear, cruises Broadway and wrestles professionally.
News & Interviews for Hercules in New York
Audience Reviews for Hercules in New York
Ah-nold's motion picture debut is little more than a Saturday morning cartoon, but even you watched those at one time. Set the cheese shields for maximum. It's a cute film, like watching a puppy fight your finger.

It's terrible...and yet it has a childish innocence that you can't help but warm to.

Now you're probably asking why in the world would I review Hercules in New York. Well my friend made a bet with me that I couldn't sit through the whole movie, I did, and I should have left sooner. Hercules (Schwarzenegger) is sent to Earth where he finds true love and starts a promising career in the bodybuilder business. Now to be truthful, the main selling point of this DVD is Arnold voice, it's says "Featuring Arnold real voice for the first time" on the DVD. So getting that out of the way, he's speak terrible English in his first role. Oh yeah the plot, well, it doesn't have one. Well it does, but it's so poorly written and over the top you'll be scratching your head on what in the world you're watching. So in order to get through this movie, me and my friend, Alex, decided to play a drinking game, we would take a shot of beer for every word Arnold said incorrectly, we almost got drunk in three minutes. If we played five minute longer, we would have our stomach pump, that's how bad Arnold English is. This movie is ridiculous on so many level. Like how Arnold fights a Bear, fight sailors who rescued him with some laughably bad music, and something about the Mafia being involve it's just nonsense. This movie is literally stupid, just read the title, Hercules in New York. If Tarzan adventure in New York wasn't interesting, what made these people think it would work with Hercules. So Hercules in New York is a bad movie with allot of filler and useless characters that make you wonder how Arnold acting career ever took off. Now this is better than some of the movie I usually pick up, it's no Vampiro, it's no Gingerdead Man, it's no Ninja Squad, and that's why it gets a 10% from me. So what did I win from the bet your probably wondering, a free copy of Mission Impossible Ghost Protocol, which is why it also gets a 10%.

*Note: The Netflix Instant version dubs Arnold. Get the original in order to grasp the full hilarity of this film. The production meeting for this stagnant piece of horse manure must have been a hoot. "Yeah, he's a god but...but he's in New York City." "Okay...and?" "That's it." "Brilliant!" It stands to wonder why this film needed to be made. The budget must have been small, as Mount Olympus looks like the back garden of a fancy funeral home, and much of the lighting is natural, though average for that time period, still looks ungodly. The film, haphazard and nonsensical, follows Hercules descent from Olympus at the behest of Zeus, angry at him for his whining and bratty demeanor. Once Hercules is on Earth, making friends with a pretzel vendor named (deep exhale) Pretzie, he jumps ship, fights a bear, and becomes a strong man. (The bear is a guy in a suit, and not a good one. Sock puppets are more believable.) Zeus immediately wishes him back, and when he becomes defiant, Zeus banishes him to hell for a hundred years. Different gods pop up to bring him to heaven or hell, though all of them are pretty banal, none possessing any interesting qualities or trying to be in likeness with who they are portraying. Besides that, the film intercuts the Arnold footage with simple scenes of the gods plotting, which usually consists of long tracking shots from twenty feet away, with atrocious dialogue and blasé direction overall. Though Arnold is pretty interesting and his unintentional hilarity abundant, Pretzie is a thorn in the viewer's side, a character somewhere between stereotypical Brooklyn Jew and a generally uneven and annoying individual. None of this film makes much sense, but watch for the iconic scene where Arnold goes against another strong man to be crowned strongest man alive. It's trivial and plain, but one hell of a laugh fest.
See Details