Hercules in New York
(1975)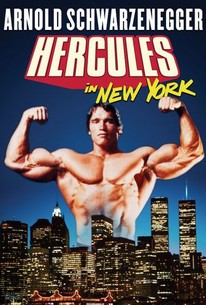 Movie Info
Every movie star has to start somewhere, and Arnold Schwarzenegger, then little-known outside of body building circles, made his screen debut in this comic variation on the "sword and sandal" epics popular in the 1950's and '60's. Hercules (Schwarzenegger) has grown tired of his life on Mount Olympus, and wishes to visit Earth. His father Zeus (Ernest Graves) forbids such a voyage, but a misdirected thunderbolt sends Hercules tumbling down the mountain and into New York City, where he's befriended by Pretzie (Arnold Stang), who runs a pretzel cart in the park. As Hercules tries to make his way in the big city with Pretzie's help, he runs afoul of a crooked wresling promoter, gets mixed up with gangsters, rides his chariot through Times Square, descends into Hell, and dines at the Automat (which some contend is not unlike descending into Hell). Just as Hercules is getting used to life on Earth, his angry father decides it's time the boy came home, and Zeus sends Nemesis (Taina Elg) and a handful of other gods to retrieve him. For the original American release of Hercules In New York, Arnold Schwarzenegger was billed as Arnold Strong, and his voice was dubbed by another actor to remove his accent; when the film was re-released on video in 2000, Schwarzenegger's original vocal tracks were restored, though the dubbed version appears on several previous video releases.
News & Interviews for Hercules in New York
Critic Reviews for Hercules in New York
Audience Reviews for Hercules in New York
½
Ah-nold's motion picture debut is little more than a Saturday morning cartoon, but even you watched those at one time. Set the cheese shields for maximum. It's a cute film, like watching a puppy fight your finger.
Kevin M. Williams
Super Reviewer
½
*Note: The Netflix Instant version dubs Arnold. Get the original in order to grasp the full hilarity of this film. The production meeting for this stagnant piece of horse manure must have been a hoot. "Yeah, he's a god but...but he's in New York City." "Okay...and?" "That's it." "Brilliant!" It stands to wonder why this film needed to be made. The budget must have been small, as Mount Olympus looks like the back garden of a fancy funeral home, and much of the lighting is natural, though average for that time period, still looks ungodly. The film, haphazard and nonsensical, follows Hercules descent from Olympus at the behest of Zeus, angry at him for his whining and bratty demeanor. Once Hercules is on Earth, making friends with a pretzel vendor named (deep exhale) Pretzie, he jumps ship, fights a bear, and becomes a strong man. (The bear is a guy in a suit, and not a good one. Sock puppets are more believable.) Zeus immediately wishes him back, and when he becomes defiant, Zeus banishes him to hell for a hundred years. Different gods pop up to bring him to heaven or hell, though all of them are pretty banal, none possessing any interesting qualities or trying to be in likeness with who they are portraying. Besides that, the film intercuts the Arnold footage with simple scenes of the gods plotting, which usually consists of long tracking shots from twenty feet away, with atrocious dialogue and blasé direction overall. Though Arnold is pretty interesting and his unintentional hilarity abundant, Pretzie is a thorn in the viewer's side, a character somewhere between stereotypical Brooklyn Jew and a generally uneven and annoying individual. None of this film makes much sense, but watch for the iconic scene where Arnold goes against another strong man to be crowned strongest man alive. It's trivial and plain, but one hell of a laugh fest.
Spencer S.
Super Reviewer
An early Schwarzenneger flick I caught on late night tv. Didn't care for it.
Tim Salmons
Super Reviewer
Hercules in New York Quotes