H.H. Holmes - America's First Serial Killer
(2004)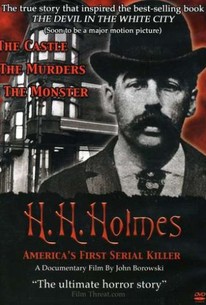 H.H. Holmes - America's First Serial Killer Videos
H.H. Holmes - America's First Serial Killer Photos
Movie Info
True crime buffs who thought they knew it all will be proven chillingly wrong with this unforgettable account of murder and madness from filmmaker John Borowski. H.H. Holmes was a master manipulator whose handsome exterior and disarming charm masked a psychotic soul bent on torture and dismemberment. The clean-cut killer's deceptively inviting outward appearance made it easy for him to lure women back to his mammoth castle in Chicago's burgeoning Englewood neighborhood -- a trip from which many would never return. In addition to his career as a serial killer, Holmes was also a skilled con artist. When the owner of Chicago-based drug store at which he was employed mysteriously disappeared in 1887, Holmes took over the shop and purchased a large lot directly across the street for the supposed purpose of building a hotel that would house guests attending the massive 1893 Chicago World's Fair. A complex maze of blind hallways, treacherous chutes, and air-tight rooms in which Holmes would gas his intended victims, the foreboding structure also housed a sub-level torture chamber complete with stretching rack, quicklime pits, and an incinerator that was perfect for disposing of human bodies. Though the structure, commonly known by locals as Holmes' "Murder Castle," was eventually burned to the ground, to this day no one truly knows the number of victims who suffered within the confines of its dark walls. ~ Jason Buchanan, Rovi
Rating:
NR
Genre:
,
Directed By:
Written By:
In Theaters:
On DVD:
Runtime:
Studio:
Critic Reviews for H.H. Holmes - America's First Serial Killer
Audience Reviews for H.H. Holmes - America's First Serial Killer
½
This is a very good documentary about America's first serial killer, H.H. Holmes. With recreations and interviews with psychologists who have analyzed how Holmes operated. This is an engaging documentary, one that is very disturbing considering the nature of it subject. Holmes was inventive in his methods of killing people, operating a death factory hidden away in a hotel that he owned. This is a well done documentary that is very interesting because Holmes was such a unique and disturbed individual. The documentary is worth seeing if you're interested in the subject. The film is pretty short, but there is enough documentation to make it standout. This is not a film that warrants multiple viewings due to its macabre nature, but nonetheless, it may be a worthy film to see if you're interested true crime stories. This is as real as it gets, and it's a chilling account of a meticulous killer who was able to murder countless people within the walls of his "castle", and not raise suspicion for a short time, until he finally got caught and executed. This documentary plays out more as a TV episode than a film, but it does stand out as an important film in the true crime genre. H.H. Holmes was the first serial killer in American history, and possibly one of the inventive in carrying out his crimes. Overall it's a good film to watch and very engaging with interviews and archival footage throughout. Although it's well constructed, H.H. Holmes should have been a bit longer to really make a standout documentary film. As it is, it's engaging, but it's not a movie that is worth seeing again and should be viewed for research purposes or if you're interested the subject.
"The castle. The murders. The monster." H.H. Holmes: America's First Serial Killer is a short, but interesting enough documentary on H.H. Holmes. The movie comes in at about an hour long and has that tv documentary feel all over it, with an annoying narrator who sounds eerie and ominous the whole time. Putting technical annoyances aside though, the film does a good job giving the audience enough entertaining information on Holmes in an hour, and the subject material doesn't disappoint as it is extremely interesting. H.H. Holmes is credited as being the first serial killer in America. If this is actually accurate or not, we can never know, but he's the first one anyone ever heard of, so he gets that credit. The film does a good job diving into the sociopathic tendencies, which Holmes and all serial killers exude. The most interesting part of the story of Holmes is his house though, and the film also does a good job at presenting all the torture chambers and other features of the house. All in all, this is a decent little documentary on H.H. Holmes. I didn't really know too much about him going in, so it was all interesting and new information for me. If you know a lot about him, then this would probably end up being a bore for you more than anything. For those who know little to nothing about the subject though, it is an interesting enough movie to make it worth a look.
Melvin White
Super Reviewer
A solid documentary about the life and death of Herman Mudgett, aka H.H. Holmes, America's first documented serial killer. Informative and educational.
Randy Tippy
Super Reviewer
H.H. Holmes - America's First Serial Killer Quotes
There are no approved quotes yet for this movie.