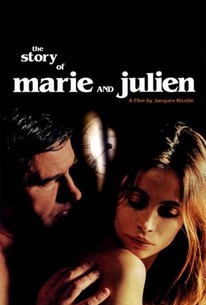 The Story of Marie and Julien
2003, Drama, 2h 30m
13 Reviews
500+ Ratings
Rate And Review
The Story of Marie and Julien Photos
Movie Info
A clock repairman (Jerzy Radziwiłowicz) reunites with his former lover (Emmanuelle Béart), while remaining entangled in a blackmail plot.
Audience Reviews for The Story of Marie and Julien
A modest little gem. As you probably guessed, this is about the relationship between Marie and Julien who reconnect after sharing an unspecified though likely intimate encounter one year ago. Not long after meeting Marie, I thought to myself, "There is something wrong with this woman" and I was right although not nearly in the way I expected. To reveal any more would be irresponsible, all I will say is that any seasoned moviegoer has seen dozens of this kind of movie, but I have not seen one handled quite this way which was very gratifying. It is slow, long, and methodical, there is absolutely no music soundtrack, and often you must watch people performing actions in silence. However if you are patient and curious enough to discover the secrets, there is quite a surprise in store, some genuinely erotic love scenes, and a teary, fulfilling conclusion. I've seen over 25 of Emmanuelle Beart's films and this rates among her finest, plus it features a cat named Nevermore who gives one of the best feline performances of all time! I'm very glad I went into this blind and you will be thankful too the less you know.

this movie is so long and drawn out, and the payoff is minimal after such an arduous wait. Both lead characters act as though the entire story is a dream sequence, and Jerzy acts mainly stone faced throughout, as though he is in a permanent daze. At the least, Ms Beart is terrific to gaze at, and puts forth a believable performance. you have heard of the movie "Casper the friendly ghost" ? This movie would aptly be titled "Marie, the horny ghost". The best part of this dvd is the extra where the director is interviewed. His intellectual discussion about the difference between phantoms and ghosts provided me some needed unintentional humor after watching this movie

Expressive qualities won't be needed in the afterlife,ouch...as to not reveal much,Rivette underlines the importance of being loyal and rampaging your beliefs.Julien is a despicable person and Marie is the angel in disguise,and these malicious creatures crave each other like animals.Rivette's poetic way to show it all prevents him from offering a true masterpiece but I forgive him because his subplot devices and fascinating tempos distinguish him.
See Details