Hitler's Children
(2012)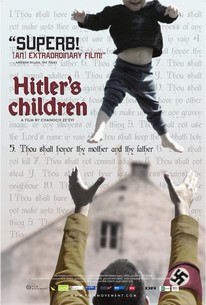 Movie Info
This documentary is about the descendants of the most powerful figures in the Nazi regime: men and women who were left a legacy that permanently associates them with one of the greatest crimes in history. What is it like for them to have grown up with a name that immediately raises images of murder and genocide? How do they cope with the fact that they are the children of ... literally, not just metaphorically.
News & Interviews for Hitler's Children
Critic Reviews for Hitler's Children
Audience Reviews for Hitler's Children
Really nice film but to me Hoess' grandchild didn't seem authentic and seemed to be playing it up for the cameras towards the end of the film. Before arriving to the Auschwitz he was very disappointed about what happened in the concentration camps at the hands of his grandfather but upon arrival he seemed happy and thrilled like he was visiting Disneyland, wanting to take a million pictures and re-inact photos of his father's childhood pictures. I guess it's difficult to hold back excitement when you arrive to the place where your father grew up but when that place happens to be the front facade of a death camp, I would expect a different reaction especially when visiting with the grandson of a victim of the holocaust. I guess anyone can make this mistake of being overly happy at inappropriate moments, but this was my initial reaction to his.
Latasha Moore
A compelling look at the sense of blood-guilt shared by the descendants of some of the most notorious Nazi monsters. I found it thoughtful, disgusting and moving.
Christian C
Super Reviewer
A striking, and important, documentary revealing the burden that must be faced when descended from Nazi war criminals..."Not every story has a happy ending." This is powerful stuff, and gets even more emotional the further into the film you get. No one ever forgets what happened, but some choose to forgive, while other choose to only remember.
Cynthia S.
Super Reviewer
Hitler's Children Quotes
There are no approved quotes yet for this movie.
Discussion Forum
Discuss Hitler's Children on our Movie forum!