Honey, We Shrunk Ourselves!
(1997)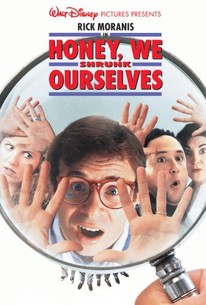 Honey, We Shrunk Ourselves! Photos
Movie Info
The Szalinsky family once again discovers size really does matter in this follow-up to Honey, I Shrunk the Kids and Honey, I Blew up the Kid. Inventor Wayne Szalinsky (Rick Moranis) is preparing to donate his problematic shrinking/expanding machine to the Smithsonian Institution as he and his wife Diane (Eve Gordon) get ready for a long weekend away from their son Adam (Bug Hall). Wayne's brother Gordon (Stuart Pankin), his wife Patty (Robin Bartlett), and his kids Jenny (Allison Mack) and Mitch (Jake Richardson) volunteer to look after Adam while his parents are away, but as luck would have it (and the title would lead you to expect), the grown-ups are accidentally zapped by Wayne's shrinking ray. As the kids run amok, their miniaturized folks must contend with monstrously huge insects, wrinkles in the carpet that look like canyons, and other threats to the existence of the suddenly tiny. Honey, We Shrunk Ourselves marked the directorial debut of cinematographer Dean Cundey.
Critic Reviews for Honey, We Shrunk Ourselves!
Audience Reviews for Honey, We Shrunk Ourselves!
A BIG step down in the series. It's a shame that this was (to date) legendary cinematographer Dean Cundey's one and only effort as a director. Picking up a few years after the first, Adam Szalinski is now a preteen who, along with some friends and relatives, have a nutty situation on their hands when his inventor dad Wayne accidentally shrinks himself, his wife, and brother and sister-in-law. Even as a kid, I thought this was dumb. It's not funny, it's not creative, and it's basically just a rehash of the first, though done far worse, and with no real charm. It's also not a very fun film. It feels tired and pointless, and honestly I have no idea why it was made. There's no reason for it. Do yourself a favor and skip this awful mess.
Chris Weber
Super Reviewer
½
This is a painful third entry into a franchise that never should have happened. The first film in the series was a decent movie, but it definitely didn't require any sequels, much less a third film. This third movie relies on previous explored ideas and doesn't have a shroud of originality to boot. There is nothing worth mentioning here, aside for the fact that the film's plot is tedious and unoriginal due to the fact that it relies more on previous ideas than anything else. Acting wise, there are some pretty unimpressive performances here and it really doesn't deliver in terms of good performances, and every actor seems bored and tired with the film's lacking material. This is a poor conclusion to a series that was better left as a standalone feature, and a film like this shows us why. The direction is poor with no emphasis on trying to create something refreshing and fun for its audience. Luckily this would be the final entry in this trilogy, and they would not make any more films. This is a pointless picture that just doesn't have a good plot to really be engaging and in turn it's a predictable film, one that is lazy and overall stupid. Like the second one, this relies on an idea that we've seen before while changing a few things around to make it interesting. However, with that said, this is far from interesting and in the long, the sheer awfulness of this third entry will make it a forgettable film, and one not worth seeing again. This is the type of film that was only made for making money without even giving any thought on how to make something, new, refreshing and above all fun.
½
Again, people get shrunk, but this time it's the adults. This movie has a couple of the original actors, but it's a bad script, and the other two movies did not need this follow up. This is a pointless movie, and I didn't enjoy it.
Honey, We Shrunk Ourselves! Quotes
| | |
| --- | --- |
| Gordon: | I think Diane might notice this |
| Gordon: | I think Diane might notice this. |
| Wayne: | Not if I shrink it |
| Wayne: | Not if I shrink it. |