Les Horas del día (The Hours of the Day)
(2003)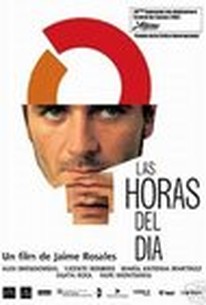 AUDIENCE SCORE
Critic Consensus: No consensus yet.
Movie Info
Abel (Alex Brendemuhl) lives with his mother in a small town just outside of Barcelona. His mundane life centers around the same few locations day after day--the dress shop where he works with his mother, his home, his girlfriend's apartment, and a few restaurants. As the repetition of his seemingly small, insignificant life wears him down psychologically, he is driven to murder. Deliberately paced, but effective in it's portrayal of the stifling boredom of its antihero's existence, Jaime Rosales's debut is a unique entry in the serial killer genre.
Critic Reviews for Les Horas del día (The Hours of the Day)
All Critics (3) | Top Critics (1) | Fresh (3) | Rotten (0)
The Hours of the Day doesn't really qualify as a thriller -- it's more of a clinical study than anything else -- but its cumulative impact is chilling.
June 30, 2004 | Rating: 3/4

Audience Reviews for Les Horas del día (The Hours of the Day)
Harrowing and unforgettable. The story of a middle-aged man trapped by the routine that has become his life: he wakes up, brushes his teeth, opens his failing store, visits his bored girlfriend, and returns home to his mother. The routine never varies, his relationships never mature, he is always at the mercy of his inhibitions. The film takes a frightening turn in a 10 minute sequence where he proceeds to, unprovoked and unflinchingly kill a female cab driver. He strangles her, punches her repeatedly and, still unsatisfied, pounds on her with a rock. He then returns to his typical every-day routine and no one is ever the wiser. It is tempting to view the film as a portrait of a serial killer, a sociopath whose 'routine' is merely a ruse, but the film is much deeper. It is about the murderous rage hidden beneath the monotonous, repetitive lifestyle of the working stiff, the anger generated by a dead-end, blue collar existence which offers no way out. It is telling that, were the murder sequences removed, the film would feel complete. This is not about a psychopath planning his attacks and waiting until the opportune time but a parable for an entire group that finds no outlet for the unfair way society has pigeonholed them. This film is a brave, stark, searing work of art. It is certainly not for all tastes, but those with the patience, intelligence and a true love of film will be spellbound.
Les Horas del día (The Hours of the Day) Quotes
There are no approved quotes yet for this movie.