Edogawa ranpo taizen: Kyofu kikei ningen (Horrors of Malformed Men)(Horror of a Deformed Man)
(1969)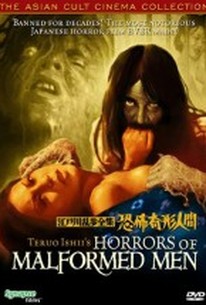 Edogawa ranpo taizen: Kyofu kikei ningen (Horrors of Malformed Men)(Horror of a Deformed Man) Photos
Movie Info
Director Teruo Ishii takes the helm for this controversial shocker that follows a young medical student as he escapes from a medical asylum and makes a shocking discovery while attempting to locate his mysterious doppelganger. Hirosuke is an amnesiac determined to locate his long lost father. Soon after escaping the asylum where he is being held against his will, Hirosuke is shocked to see a picture of his spitting image in the newspaper. Now, as Hirosuke assumes the identity of a dead man in order to travel to remote Panorama Island and unlock the secrets of his family past, the grotesque truth that awaits him will forever alter his perception of the natural world. Deep in the jungles of Panorama Island, Hirosuke's obsessed father has been conducting a series of bizarre medical experiments in hopes of finding a cure for his disfigured wife. But success has eluded the crazed scientist, and all that his experiments have yielded is an abominable dominion populated by repulsive, half-human/half-man hybrids. Here, in a surreal world of incest, murder, and insanity, Hirosuke will finally come face to face with the most terrifying creations ever to walk the earth. ~ Jason Buchanan, Rovi
Critic Reviews for Edogawa ranpo taizen: Kyofu kikei ningen (Horrors of Malformed Men)(Horror of a Deformed Man)
Audience Reviews for Edogawa ranpo taizen: Kyofu kikei ningen (Horrors of Malformed Men)(Horror of a Deformed Man)
½
A glorious piece of high trash cinema that definitely belongs in the "So Bad, It's Awesome" category.
Robert Fearon
Super Reviewer
Like Edogawa Rampo's greatest hits as told through the bizarre eye of Terou Ishi. Great stuff, and thanks to Synapse (and the now defunct Panik House RIP) for bringing this film to North America. A strange, trippy watch.
Christopher Brown
Super Reviewer
½
This movie.....well it's fucking weird and great at the same time. Full of twists and fanciful delights.
Patrick Dolan
Super Reviewer
Edogawa ranpo taizen: Kyofu kikei ningen (Horrors of Malformed Men)(Horror of a Deformed Man) Quotes
There are no approved quotes yet for this movie.