Hot Girls Wanted
(2015)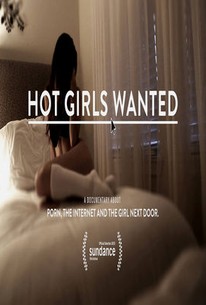 Movie Info
A look at the amateur-porn industry profiles a young adult actress who discovers its downsides.
Critic Reviews for Hot Girls Wanted
Audience Reviews for Hot Girls Wanted
½
Despite its tendency towards moralizing, this is a revealing documentary that says a lot about those who enjoy feeding their sexual fantasies with everything that is so misogynist and degrading to women, from videos of teenager manipulation all the way to abuse simulations.
Carlos Magalhães
Super Reviewer
½
Rashida Jones is the biggest name attached to the project as producer. Is she also providing the narration? I don't know. Almost the entire crew for this documentary (directing, writing, producing, editing, cinematography) are women. The film looks at 18 year old girls entering and then deciding to stay or leave the porn industry. Graphics and archival clips reveal the wider media's obsession with hot girls. They're fresh meat. But they're someone's daughter and some have hopes and aspirations for more than the instant gratification of money and constant sex. The main subject of the film is Riley Reynolds, Founder of Hussie Models, a "talent agency" in South Florida. In the context of what was allowed to be filmed for the documentary, he seems to be a nice guy who tells it like it is in the amateur industry and treats his girls well. The biggest motivations for all the girls that live together in his house seems to be receiving flattering attention, money, and limited rules from parent-like authority figures. These things keep his agency supplied with new girls every few months despite fleeting popularity, diseases and infections, or frustration that the girls feel over the obsession with violence and virginity in the porn studio system. Tressa Silguero, who, like all the girls, goes by a porn name that is invented when they arrive at the Hussie Models house, is also a major focus. We meet her parents and new boyfriend. We hear her thoughts more often than the other girls in the form of webcam journals. Her story of leaving home, eventually telling her parents what she does, and realizing that she wants out of the porn business to live a normal life is told.
Byron Brubaker
Super Reviewer
½
From producer Rashida Jones, and directors Jill Bauer and Ronna Gradus, comes the true story of the lives of amateur porn stars living in Miami, Florida. As the documentary explains, legislation has been enacted in California that requires male performers wear condoms. Because people are turned off by this preventative measure, Miami has been a hotbed for porn production. http://www.bluefairyblog.com/reviews/2015/6/30/double-feature-hot-girls-wanted-and-kink
Spencer S.
Super Reviewer
Hot Girls Wanted Quotes
There are no approved quotes yet for this movie.