Sanatorium pod Klepsydra (The Hour-Glass Sanatorium) (The Sandglass)
(1973)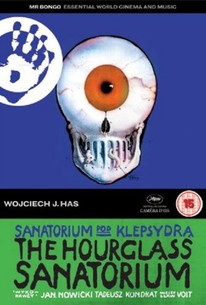 AUDIENCE SCORE
Critic Consensus: No consensus yet.
Sanatorium pod Klepsydra (The Hour-Glass Sanatorium) (The Sandglass) Photos
Movie Info
In the period before World War II, Joseph is on his way to visit his father in a sanatorium. As he travels by train, his reminiscences and fantasies blend together and become a revelatory window into the mind and psyche of a somewhat mystical young Jew.
Critic Reviews for Sanatorium pod Klepsydra (The Hour-Glass Sanatorium) (The Sandglass)
All Critics (2) | Fresh (2) | Rotten (0)
This mind fuck arthouse pic is not for the casual filmgoer or those who demand a linear story.
Jakob's crepuscular quest to reconcile himself to his past will haunt for days those it does not send straight to sleep.
Audience Reviews for Sanatorium pod Klepsydra (The Hour-Glass Sanatorium) (The Sandglass)
Trying to describe the surreal mystique of "The Hour-Glass Sanatorium" is futile. This elusive Polish film is so visual -- and so resistant to a snappy plot summary -- that there's not much to say beyond "Just see it!" The "magic theater" element of Hermann Hesse's novel "Steppenwolf" may be one useful comparison, but leaning on that parallel too hard would be misleading. Jozef (Jan Nowicki, with his wonderfully expressive face) travels to visit his dying father (Tadeusz Kondrat), who is comatose at an isolated, rotting facility that looks like it hasn't been maintained in 10 years. Vines crawl up the walls. The rugs are tattered. Filth and cobwebs are everywhere. The rooms are poorly lit and have a haunted mansion's furniture. There's barely even a staff. The one nurse casually tells Jozef that it's never nighttime there. Like whatever other unseen patients are hidden on the grounds, the father somehow has been programmed to relive various segments of his life as a form of therapy (perhaps as preparation for death). And soon after Jozef arrives, he wanders off and experiences the same. We follow him as he revisits various events from his childhood. Most of the action takes place in an orthodox Jewish slum. A bubbly, redheaded vixen (prostitute?) and a young friend named Rudolf are the most notable characters beyond his shopkeeper parents, while the strange sights include motorized mannequins, loose eyeballs, a bizarre bird festival and a troop of black soldiers. He even meets the three wise men. The meticulous sets and locations are consistently spellbinding, and the scene changes in impossible ways -- the most memorable transition finds Jozef crawling under a bed and emerging somewhere totally different. These are not proper flashbacks because he always remains an adult but wherever he goes, people treat him as if he's a boy again. His journey leads to a powerful, poetic conclusion that erases whatever impatience the film's sluggish middle might generate. Director Wojciech Has shows a remarkable eye -- it's puzzling that "The Saragossa Manuscript" seems to be his only other movie with international renown.
Eric Broome
Super Reviewer
Sanatorium pod Klepsydra (The Hour-Glass Sanatorium) (The Sandglass) Quotes
There are no approved quotes yet for this movie.