Chain Reaction (House of Blood)
(2006)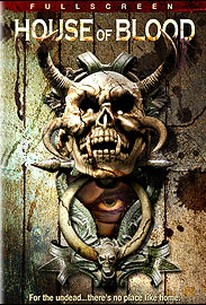 AUDIENCE SCORE
Critic Consensus: No consensus yet.
Movie Info
A prison bus with over a dozen criminals on board has an accident and rams another car, in which Dr. Douglas Madsen was on his way home. Most of the prisoners die. Four of them survive, one of them severely injured. After having killed all the guards, they head for the woods. They take Dr. Douglas Madsen hostage. Suddenly a huge house appears in the middle of the woods. The leader of the group, Arthur, emphasizes that he will kill Douglas and every single member of the "family" if his wounded brother would die. Meanwhile some members of the family show strange behavior, and very soon mayhem breaks loose...
Rating:
NC17
Genre:
Directed By:
On DVD:
Runtime:
Critic Reviews for Chain Reaction (House of Blood)
There are no critic reviews yet for Chain Reaction (House of Blood). Keep checking Rotten Tomatoes for updates!
Audience Reviews for Chain Reaction (House of Blood)
Lots and lots of gore but bad costume and make-up art and just one scene with cool special effects. The idea is one of eternal return to a cabin in the woods that is inhabited by demon spawn and a girl named Alice who is not like the rest. They talk like biblical folk drunk on Middle English. In one scene blood gushes from the corpse of a convict in a manner reminiscent of Evil Dead. Unfortunately none of it is enough to make this movie worth wasting your time. Better luck elsewhere.
Charles Frauman
Holy German splatterfest! Con Air meets Evil Dead... but multiply the gore amount by at least twice as much. Luckily it is all in English language so you don't have take it too seriously while watching, because it is pretty corny. If you have seen any of this directors movies, you know you are expecting bottom rate editing and direction, but top rate gore and entertainment. BTW-----VERY IMPORTANT!!!---DO NOT WATCH THE REGION 1 AMERICAN VERSION. IT CUTS OUT 15 MINUTES OF VITAL GORE. If you have a sensitive stomach the American version may be for you, but since gore it the main part of this movie, it dont feel its worth even watching the American version. You an find uncut torrents online
Ian Bracken
This movie starts off with a prison bus going down a empty stretch of road and on the other side the only car insight driven by one Dr Douglas Madsen as these two come closer and closer together something happens that sends the Dr's car to collide with the prison bus freeing four prisoners who decide to take the good Dr hostage and retreat to a remote cabin in the woods that just happens to be home of a family that is more dangerous then the prisoners now with no way out the prisoners and the hostage must fight to stay alive against the people in the cabin. This movie is pretty cheesy but for me in a good way and there is enough blood spilled to keep a fan of gore entertained worth a watch for any fan of cheesy movies like this.
Chain Reaction (House of Blood) Quotes
There are no approved quotes yet for this movie.