House of Dracula
(1945)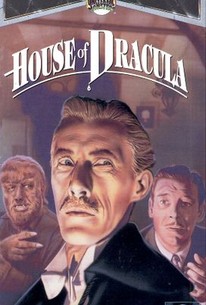 Movie Info
This sequel to The House of Frankenstein offers an account of a naive scientist (Onslow Stevens) who allows Count Dracula (John Carradine), the Wolf Man (Lon Chaney Jr.) and the Frankenstein monster (Glenn Strange) to seek refuge in his laboratory.
Critic Reviews for House of Dracula
Audience Reviews for House of Dracula
A later universal monster movie which deserves a watching, it's very interesting and exciting. I know I enjoyed it.
i really reall do not like this guy as dracula he is a worm compaired to bela lagousi!
Morgan Salem
Super Reviewer
The classic Universal monster films end with House of Dracula, a film that has a misleading title because it isn't really Dracula's House. Dr. Edelman must be a renowned doctore because Dracula shows up wanting a cure, then the Wolf Man shows up wanting a cure and then Frankenstein ends up being buried beneath the castle. yes, all three are in this and yes, it fails miserably. The only cool thing is a female hunchback, but other than that House of Dracula is a blah B-movie that doesn't really go anywhere.
Chris Garman
Super Reviewer
House of Dracula Quotes
There are no approved quotes yet for this movie.