How to Be a Serial Killer
(2009)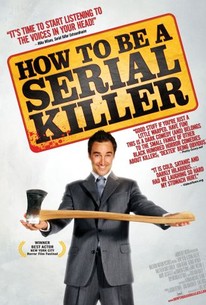 AUDIENCE SCORE
Critic Consensus: No consensus yet.
How to Be a Serial Killer Photos
Movie Info
A parody of self-help literature and motivational speakers, Luke Ricci's dark comedy follows charismatic serial killer Mike Wilson as he mentors his first pupil in the fine art of mass murder. Mike is the kind of guy who knows what he wants out of life, and knows how to get it. Now that Mike is living the dream, he wants to share his knowledge with others, too. In order to give aspiring serial killers all the tools they'll need to become the next Jeffrey Dahmer, he's crafted a ten-lesson program that covers such topics as weaponry, corpse disposal, and keeping secrets from loved ones. When it comes time for Mike to deliver his first one-on-one tutorial, he recruits a lost soul named Bart and the lessons begin. As the lessons intensify, Mike finds it increasingly difficult to keep his clandestine career a secret from his beloved girlfriend, Abigail. Eventually, Abigail discovers the truth, and the police start closing in on Mike. Although Mike has escaped to his desert hideout along with Bart, the cops soon come knocking and all hell breaks loose. Will Mike and Bart ever escape to Mexico as planned, or will Mike's first lesson in police stand-offs and violent gunfights prove a complete and unexpected bust?
Critic Reviews for How to Be a Serial Killer
Audience Reviews for How to Be a Serial Killer
The film and acting were of poor quality and it doesn't get moving fast enough. I didn't get past 25 minutes...
Sarah Prisbylla
Super Reviewer
How To Be A Serial Killer is one of the most original horror comedies in a long time. The premise of the is very original, the film is done up as a how to guide on how to become a serial killer. It's a disturbing, funny film thats equally deranged as it is fun, one minute you're thinking how messed up the main character is, the next you're laughing out loud. This film is a very original comedy horror film that blends both genres very well, and is a definite fun film to enjoy. How To Be A Serial Killer is a film that really is a top notch low budget film thats very original and is a breath of fresh air. Despite this, you got to keep in mind that this is equally deranged and funny. A definite must watch. One terrific little film too.
This movie starts decently enough by building a very interesting relationship between active multiple murderer and aspiring killer. The dialogue between them tends to stay very tight and believable, but the plot runs screaming in the opposite direction towards cliche and sloppy pacing. One thing about this movie is that I do not believe its writers/producers have an adequate understanding of what the term "serial killer" entails. This main character is not a "classic" or "textbook" serial killer like Dahmer, Gacy, or Bundy but a simple mass murderer (minus the large amount of underlings) like Hitler or any Soviet Union leaders. The distinction is that the "serial killer" has a relationship with his killing that is akin to relationship a normal person has with their sexuality; it is a sometimes all-consuming force that is fueled by fantasy and marked by sexual satisfaction. Mass murderers, of which many modern domestic examples are erroneously labeled "serial killers", do not have the fantasy-fulfillment relationship with their killing but do it for less personal and more ideological reasons. With both groups there is the sociopathic issue of control over life and death, which is why these groups blur a lot and this movie's main character could be seen by some laymen - or just those who disagree with the psychological theories I've read - as a genuine classifiable "serial killer". Anyways, that whole "I don't see this guy as a true serial killer" did work on some level because it made the killing less creepy and more open to the black comedy genre. At the same time, I think this really worked against it, because I was looking for something that really tread the paper thin line between fucked-up and funny (like House of 1000 Corpses, Severance, anything Troma). A This film doesn't have any gore I think you can definitely do edgy and dark but still funny without much gore, but this film doesn't. This is an instant watch on a netflix and I suggest you PASS ON IT.
_kelly .King
Super Reviewer
How to Be a Serial Killer Quotes
There are no approved quotes yet for this movie.