How to Get Rid of the Others
(2007)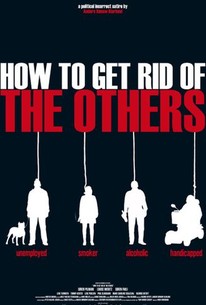 AUDIENCE SCORE
Critic Consensus: No consensus yet.
Movie Info
Left at a loss as to what measures must be taken in order to save their crumbling society, the Danish government enacts martial law and begins systematically executing tax evaders, welfare abusers, and various other inexpedient citizens in director Anders Ronnow Klarlund's blackly comic satire. The time is the not-too-distant future, and the "New Copenhagen Criteria" has finally been enacted. A government mandated system in which any citizen deemed a drain on the state is classified as expendable has found a large collection of potential deadbeats rounded up for questioning in a make-shift Guantanamo Bay-style prison camp constructed on the site of a commandeered elementary school. Their interrogator: Major Christian Andersson (Søren Pilmark), a ruthless judge, jury, and executioner whose activities are monitored by wishy-washy Parliament representative Folke (Soren Fauli). After forcing a false confession from artist-turned-bureaucrat (Tommy Kenter) and then putting a bullet in his head, Major Andersson finds his trigger-happy ways thwarted by the very woman who drafted the disastrous criteria. Though currently being detained in the schoolyard and awaiting judgment, suspected welfare abuser Belinda (Louise Mieritz) is actually former civil servant Sidse, the mastermind of the "New Copenhagen Criteria." Aghast at what has become of her well-intending plan, Sidse soon aligns herself with a fearless group of rebels while coaching her fellow detainees in implementing a legal loophole that may just help them escape execution.
Critic Reviews for How to Get Rid of the Others
There are no critic reviews yet for How to Get Rid of the Others. Keep checking Rotten Tomatoes for updates!
Audience Reviews for How to Get Rid of the Others
½
A wonderful Danish black comedy with one hell of a hook and ideal performances all-around.
William Goss
Super Reviewer
How to Get Rid of the Others Quotes
There are no approved quotes yet for this movie.