The Howling
(1981)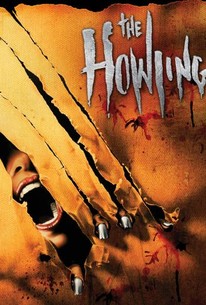 Movie Info
This groundbreaking, darkly comic horror film from director Joe Dante changed the look and feel of werewolf movies in ways light-years distant from Universal's horror classic The Wolf Man. The story begins with television reporter/anchor Karen White (Dee Wallace) taking part in a dangerous police operation intended to trap psychopath Eddie Quist (Robert Picardo). When confronted by Eddie face to face, she witnesses something horrifying enough to trigger selective amnesia. Plagued by a series of violent nightmares, Karen decides to admit herself to a posh recovery resort known only as "The Colony," run by her eccentric New Age therapist, Dr. Waggner (Patrick MacNee), and brings along her husband, Bill (Christopher Stone), for support. The night after they arrive, Karen and Bill are unnerved by eerie howling in the woods. Back in the city, Karen's co-workers Chris (Dennis Dugan) and Terry (Belinda Balaski) have been investigating Eddie's background after discovering that his body has disappeared from the morgue. Sifting through Eddie's possessions, they find a strange collection of artwork depicting wolf-like creatures, and decide to consult with Walter Paisley (Dick Miller, of course), the owner of an occult bookshop, on werewolf lore. Though he claims not to believe in the stuff he's selling, Paisley nevertheless convinces Chris to purchase a handful of silver bullets...just in case. Back at the colony, Dr. Waggner has organized a hunting party after hearing Karen's account of the nocturnal howling, but the men find nothing but a rabbit, which Bill is told to bring to the cabin of the sultry Marsha (Elisabeth Brooks) to prepare for dinner. After resisting Marsha's less-than-subtle sexual overtures, Bill is attacked by a wolf while returning to his cabin. The following moonlit night, the sleepless Bill wanders outside to find Marsha waiting and the two make love by the campfire, their bodies undergoing a frightening transformation. Just as Karen is beginning to suspect that her husband is hiding a secret far more threatening than marital infidelity, Chris and Terry have come to realize -- too late, in Terry's case -- that Eddie Quist is not only still alive, but not quite human...and he knows he's being followed. Chris arrives at the colony too late to save Terry, but manages to find Karen just as the colony's residents -- all of whom are werewolves, including Dr. Waggner -- are assembling to decide her fate. Dante fills his film with heartfelt homages to The Wolf Man and other classic horror movies, as well as a few clever visual puns and in-jokes from his tenure with Roger Corman, but never strays from the path to genuine horror, particularly when Rob Bottin's chilling monsters are onscreen.
News & Interviews for The Howling
Critic Reviews for The Howling
Audience Reviews for The Howling
In tandem with 'An American Werewolf in London', the transformation sequence in 'The Howling' is not quite as painstakingly excruciating and terrifying but it's within the proximity of impressive special effects from Rob Bottin. The chest inflates, the snout protrudes and the skin effervesces with hair. However, the end result is a shaggy muskrat that is more mangy and unkempt than goosebump-inducing. Such is the case for most of 'The Howling', a kitschy, obnoxiously winking B-picture that attempts to spoof self-help gurus but the satire is hokily ill-advised with this dross. A female werewolf in the newsroom squelches tensile-wire tension because the prosthetic is insufferably adorable and sublethal. Likewise the reaction shots from the viewing publics (a nuzzling couple, a Spanish cashier, etc.) are ridiculously tongue-in-cheek and plagiarized directly from a Zucker Bros. farce. Also I apologize for my lack of sophistication but I've never been an acolyte of Harryhausen stop-motion animation and a few frames of baying wolves is truly atrocious.
Cory Taylor
Super Reviewer
[img]http://images.rottentomatoes.com/images/user/icons/icon14.gif[/img]
Directors Cat
Super Reviewer
½
Aside from An American Werewolf in London, The Howling is one of the best werewolf films ever. Joe Dante crafts a solid werewolf film with great acting, terrifying moments and good acting. The film does have room for improvement, but overall, The Howling is a solidly crafted film. After a near fatal encounter with a mass murderer, reporter Karen White is sent to a rehab facility to recuperate from her ordeal. However she soon realizes that things are strange and aren't what they seem. The film is brilliantly directed by Joe Dante who previously helmed Piranha and went on to direct other classics such as Gremlins and The Burbs. The film feature a terrific cast of actors, Slim Pickens is of course, one of the most noteworthy names of the cast and he delivers something totally different from his previous work. The film features awesome special effects by Rob Bottin who would later create the astounding effects in John Carpenter's The Thing. The Howling is a terrific piece of horror cinema that is most definitely a classic. The film has a terrific plot and great scares to keep the most diehard Horror fans pleased. Joe Dante is a very underrated director, and all of his films have something to love about them. The Howling is tense, horrifying and totally strange the way a horror film should be. I once saw a review by Roger Ebert stating that this was a film that shows a women being the victim, he threw this film in the same basket as I Spit on Your Grave and other slasher films of the early 80's. Ebert seemed to forget that THIS is a WEREWOLF film not a slasher film. Man, I hate that critic. Anyhow this brings me to a point. The Howling is not a film that shows the woman being the victim, sure the main character recovers from an ordeal where she almost gets killed by the hands of a serial killer, but in no way is this glorifying it. That plot device sets the tone to the story, and The Howling should not be dismissed as trash. The film is a good old fashioned Werewolf film that scary, thrilling and exciting. A well written and executed horror film. Also it shows that Roger Ebert doesn't know shit about what he's talking about.
The Howling Quotes
| | |
| --- | --- |
| Chris: | I've got silver bullets in here. (points rifle) |
| Jerry Warren: | Silver bullets my ass! Get up, T.C.! |
| | |
| --- | --- |
| Chris: | (looking in what was Eddie Quist's morgue locker) - He's not here! |
| Morgue Attendant (Uncredited): | He was here this morning! |
| Terry Fisher: | (noticing the damage on the inside of the locker door) - Look at the door! |
| Chris: | You think somebody took him? |
| Morgue Attendant (Uncredited): | Well, he didn't just get up and walk away! |
| | |
| --- | --- |
| Eddie: | I'm gonna give you a piece of my mind. I trusted you, Karen. |
| | |
| --- | --- |
| Dr. George Waggner: | Repression. Repression is the father of neurosis, of self-hatred. Now, stress results when we fight against our impulses. We've all heard people talk about animal magnetism, the natural man. The noble savage, as if we'd lost something valuable in our long evolution into civilized human beings. Now there's a good reason for this. |