In the Line of Duty 4
(1989)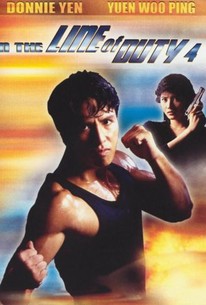 AUDIENCE SCORE
Critic Consensus: No consensus yet.
In the Line of Duty 4 Photos
Movie Info
Cynthia Yang Li-chang stars again in this fourth installment of the popular series directed by Yuen Woo-ping. The film opens with straight arrow American longshoreman Luk Wan-ting (Yuen Yat-chor) stumbling into a police raid, in which he gets blamed for a DEA agent's death. Now a murder suspect, Luk flees to Hong Kong with Madam Yeung (Yang) and street cops Donny (Donnie Yen Chi-tan) and Michael (Michael Wong Man-tak) in hot pursuit. When they finally catch him, Luk is shot by a shadowy assailant before he is extradited. As Luk is the lucky survivor of one assassination attempt after the next, Yeung begins to suspect that Michael isn't necessarily on the side of the law. As it turns out, he's a CIA agent selling drugs to the inner cities to finance terror campaigns in Central America.
Rating:
R
Genre:
,
Directed By:
In Theaters:
On DVD:
Runtime:
Studio:
D & B Films Co. Ltd.
Critic Reviews for In the Line of Duty 4
There are no critic reviews yet for In the Line of Duty 4. Keep checking Rotten Tomatoes for updates!
Audience Reviews for In the Line of Duty 4
½
The 80s where were good times when it comes to the action genre for giving us such classic as Die Hard, Indiana Jones, Police Story, and many, many more. So it's no surprise that some of the lesser action know film, like the one i'm reviewing today, are bound to get overlooked. In The Line of Duty 4: Witness revolves around two detectives who are up to their necks in trouble and team up to stop crooked CIA agent. The plot is decent and has enough action to satisfy those fans of Donnie Yen. Even though I expect it the movie to get complicated, it's simple and functional and reaches many themes like friendship, betrayal, and immigration. I don't know if it's a direct continuation of the previous films in the series, but the characters don't feel developed. There's not one character that really stood out to me, but Donnie Yen did stand out as an actor. Out of his earlier films that I've seen so far this is by far one of his better efforts. It's actually exciting, funny, and you're just not going to hope for someone to come out of nowhere and fight Donnie Yen. I liked the Asian cast, they did good job acting and fighting. The Americans actor aren't as good, especially one who fights Donnie in a alley and starts making funny facial expression. I did recognize of these actor, but unfortunately I don't know his name and I would have never imagined Donnie Yen beating the same guy in two different movies playing a similar characters. The action scenes were solid, though the best ones where when vehicles were included. In The Line Of Duty 4: Witness should satisfy fans and non fans of the series with a solid. While not huge on plot, it's big on action and one of the lesser know action movies from the 80s you'll enjoy.
Caesar Mendez
Super Reviewer
½
God damn it! I hate viewing sequels without seeing the first film, let alone not seeing the first three films! Normally I wouldn't even buy a sequel without owning or seeing the first entries but in the case of "In the Line of Duty 4" I couldn't pass up on the opportunity as I scored a brand new out-of-print 20th Century Fox edition at a pawn shop for a measly $3. That and for the fact it stars major martial arts badass Donnie Yen, I couldn't help myself so here I am again reviewing a sequel without the proper knowledge of the previous entries to compare it to. In doing a little research I discovered it is extremely hard to find information on the "In the Line of Duty" franchise despite the series being a monster hit in Hong Kong. Apparently the first two films starred Michelle Yoeh and a hardcore female cop and the films were titled "Yes Madam!" and "Royal Warriors" in most English language countries. Star Cynthia Khan (whose stage name is a combination of Cynthia Rothrock and Michelle Khan, aka Michelle Yoeh, whom she replaced in the franchise) took over the starring role for the remainder of the series which are known as "In the Line of Duty III", "In the Line of Duty 4", "In the Line of Duty 5: Middle Man" and "In the Line of Duty 6" in most English language countries. It gets really confusing, especially for completes like me who like to own entire franchises. Thankfully for me though "In the Line of Duty 4" is completely viewable on its own without having seen the previous entries. So we get tough as nails female cop Yang Lei-Ching (Cynthia Khan) butt heads with a C.I.A. agent played by Donnie Chen as they are both on the trial to terminate a drug trafficking syndicate. Along the way an innocent illegal immigrant gets mixed into the mess by becoming a suspect and soon our two agents from opposite sides of the Pacific need to put their differences aside to bring the syndicate down and a corrupt agent along with it. Cynthia Khan is one hellacious women! Not only is she gorgeous and has a soft side, but she also kicks so much ass that she might even be able to take down a God like Chuck Norris. However for this sequel she is almost outshined by newcomer Donnie Yen, who looks about 19 years old. Though he only recently has gained popularity with martial arts fans here in the states, "In the Line of Fire 4" proves he has been kicking ass since 1989. Director Yuen Woo-ping in no stranger to directing amazing martial artists as he has directed both Jackie Chan in "Drunken Master" and Jet Li in "Tai Chi Master". He loads this film up with tons of amazing stunts and action scenes. We get Cynthia Khan in an aw-inspiring martial arts fight above and beside a moving ambulance and Donnie Yen in a white knuckle motorcycle chase... and these are just a few scenes in this non-stop actionfest. "In the Line of Duty 4" brought a huge smile to this Hong Kong film lovers face. It mixes high caliber stunts and amazing martial arts to near perfection. The 'police fighting syndicate' plot can be a little by-the-numbers but fans don't watch these type of films for engaging plots... it's all about the action baby! It also keeps the slap stick comedy to a minimum (Jackie Chan... please take note!). I enjoyed this sequel so much that I'm putting a lot of blood, sweat and tears into locating American friendly DVDs of the rest of the series... and trust me as it is no easy task! This is a must for Hong Kong film fans that enjoy the police martial arts entries and also worth a look for Donnie Yen fans to see an earlier and kick ass performance by the actor.
Eric Reifschneider
½
More fast and furious fourth installment of the "In the Line of Duty" series. Cynthia Khan and Donnie Yen are good teamwork.
Dean McKenna
Super Reviewer
In the Line of Duty 4 Quotes
There are no approved quotes yet for this movie.