Humongous
(1982)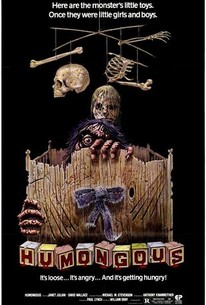 Movie Info
This plodding horror bore from Prom Night director (and one-time softcore porn-maker) Paul Lynch slogs through Friday the 13th territory with a tale of standard teen slasher-fodder falling victim to a shambling subhuman killer. This particular crop of annoying kids has stolen Daddy's boat for a sex-and-drug-filled orgy on a remote island. Sadly for them, the island is inhabited by packs of wild dogs and a shaggy Mongoloid. The Bigfoot-like behemoth is apparently the spawn of a savage coupling between a slavering rapist and a former female resident of the island. It lopes about, chopping and bludgeoning the teens (who are particularly obnoxious, even for a film of this sort). Whatever interest this deathly dull flick may have mustered is completely obscured by some of the murkiest cinematography on record; the fact that nearly every scene is shrouded in complete darkness may prove a blessing in disguise. The film's ad campaign sported the slogan "God help us," which could easily have been a plea from the film's financial investors. ~ Cavett Binion, Rovi
Critic Reviews for Humongous
All Critics (5) | Fresh (0) | Rotten (5) | DVD (1)
It deserves a better reputation than it has, but it's still not a lost classic: just a meat and potatoes horror flick.
Poorly directed, continuity errors, not scary.
July 31, 2003 | Rating: 1/5
A grim and dreary slasher-on-an-island retread.
July 25, 2002 | Rating: 1/5
Audience Reviews for Humongous
The worst horror movie of the decade. There's nothing I can say that's good about this movie. Stay away from this one.
The copy that I have (which is a VHS rip) is pretty dark, so it's difficult to tell what's going on a lot of the time. The thing is though it starts out interesting, then just gets boring for the rest of the movie. I think I watched the censored cut, as well.
Tim Salmons
Super Reviewer
I don't even remember this, I watched it that long ago (I was really bored). I do remember, however, that it sucked badly.
Lauren Donis
Super Reviewer
Humongous Quotes
There are no approved quotes yet for this movie.