The Hurt Locker
(2009)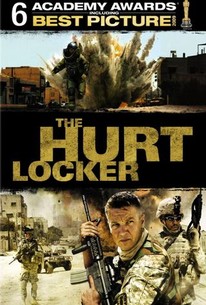 TOMATOMETER
AUDIENCE SCORE
Critic Consensus: A well-acted, intensely shot, action filled war epic, Kathryn Bigelow's The Hurt Locker is thus far the best of the recent dramatizations of the Iraq War.
Movie Info
Based on the personal wartime experiences of journalist Mark Boal (who adapted his experiences with a bomb squad into a fact-based, yet fictional story), director Kathryn Bigelow's Iraq War-set action thriller The Hurt Locker presents the conflict in the Middle East from the perspective of those who witnessed the fighting firsthand -- the soldiers. As an elite Army Explosive Ordnance Disposal team tactfully navigates the streets of present-day Iraq, they face the constant threat of death from incoming bombs and sharp-shooting snipers. In Baghdad, roadside bombs are a common danger. The Army is working to make the city a safer place for Americans and Iraqis, so when it comes to dismantling IEDs (improvised explosive devices) the Explosive Ordnance Disposal (EOD) crew is always on their game. But protecting the public isn't easy when there's no room for error, and every second spent dismantling a bomb is another second spent flirting with death. Now, as three fearless bomb technicians take on the most dangerous job in Baghdad, it's only a matter of time before one of them gets sent to "the hurt locker." Jeremy Renner, Guy Pearce, and Ralph Fiennes star. ~ Jason Buchanan, Rovi
People Who Like this movie also like
News & Interviews for The Hurt Locker
Critic Reviews for The Hurt Locker
Audience Reviews for The Hurt Locker
½
A US army bomb disposal tec makes waves in his new unit because of his gung ho attitude. The Hurt Locker is an interesting war film, mainly because its indie sensibilities make it a very unusual treatment of this subject for a product of the US movie making industry. It's quite a reserved, unsentimental film about the impact of a "war" that has no visible enemy; not quite in the same way as Jarhead in which the soldiers just could not find an army to face, but because the enemy hides itself in plain sight amongst the innocent population. This obviously causes great conflict within the soldiers, always unsure whether to fire or not to fire and seemingly never able to punish the perpetrators of the atrocities they witness on a daily basis. It thankfully avoids heavy-handed patriotic bullshit instead concentrating on the effects of the situation on each individual and the fine performances all round make for fascinating character study. The "battle" sequences are also very well staged, and although the dreaded shaky cam did irritate (the constant zoom switching and miscued shots are so obviously deliberate that it just made it feel even more fake rather than less) it is technically very accomplished on every level. The only faux pas for me was the closing scene in which "our hero" is striding purposefully back down a Baghdad road to a heavy metal riff which was a bit too John Wayne and seemed to be at odds with the tone of the whole of the rest of the film, but otherwise another quality war film about a very sensitive subject.
Gripping, intense, and extremely well-acted, "The Hurt Locker" shows the war like never before. Jeremy Renner is in his breakout performance, which will eventually lead him to superstardom. As we follow a bomb-defusing team, we are placed in events that seem so real you will be on the edge of your seat, hoping for our cast to make it out alive. The writing is terrific, the direction is top-notch, and the story is displayed to perfection. Kathryn Bigalow's "The Hurt Locker" is definitely my favourite film of 2009!
Lacking a narrative arc. There's no central conflict to keep the audience interested. Instead it's just repetitive unrealistic war scenes, and it really drags throughout its long running time. Yawn.
Eric Shankle
Super Reviewer
The Hurt Locker Quotes
| | |
| --- | --- |
| Staff Sgt. William James: | And the older you get, the fewer things you really love. And by the time you get to my age, maybe it's only one or two things. |
| | |
| --- | --- |
| Sgt J.T. Sanborn: | I'm ready to die, James. |
| | |
| --- | --- |
| Staff Sgt. William James: | You love playing with that. You love playing with all your stuffed animals. You love your Mommy, your Daddy. You love your pajamas. You love everything, don't ya? Yeah. But you know what, buddy? As you get older... some of the things you love might not seem so special anymore. Like your Jack-in-a-Box. Maybe you'll realize it's just a piece of tin and a stuffed animal. And the older you get, the fewer things you really love. And by the time you get to my age, maybe it's only one or two things. With me, I think it's one. |
| | |
| --- | --- |
| Beckham: | that's gangster. |
| Beckham: | That's gangster. |
Discussion Forum
Discuss The Hurt Locker on our Movie forum!