I Am Cuba (Soy Cuba)
(1995)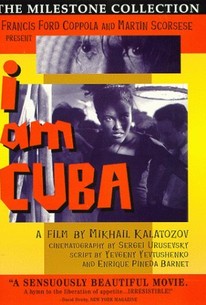 TOMATOMETER
AUDIENCE SCORE
Critic Consensus: Visually absorbing and formally audacious, I Am Cuba (Soy Cuba) opens a long-buried time capsule that has lost none of its captivating power.
I Am Cuba (Soy Cuba) Photos
Movie Info
Hidden away in the Soviet archives for three decades, "I Am Cuba" is a wildly schizophrenic celebration of Communist kitsch, mixing Slavic solemnity with Latin sensuality -- a whirling, feverish dance through both the sensuous decadence of Batista's Havana and the grinding poverty and oppression of the Cuban people. In four stories of the revolution, Mikhail Kalatov's astonishingly acrobatic camera takes the viewer on a rapturous roller-coaster ride of bathing beauties, landless peasants, fascist police, and student revolutionaries.
Critic Reviews for I Am Cuba (Soy Cuba)
Audience Reviews for I Am Cuba (Soy Cuba)
A revolutionary cinematographic! Astounding film! Beautiful black and white photography, Kalatozov use a magnificently camera movements plan sequence. Visually hypnotic, great storys with politic and poetry, the fight for a revolution and free oneself of a dictatorial goverment.
Lucas Martins
Super Reviewer
Manipulative? Yes Propaganda? Yes Breathtaking? Absolutely. An absolute must see for fans of cinematography. Most of the film is composed of full mag single takes. It's like Children of Men on on meth. This film inspired PT Anderson's long steadi-cam shot that goes into the pool in Boogie Nights.
Ken Stachnik
Super Reviewer
½
Whatever this Soviet-Cuban co-production's failings as a piece of propaganda, as an exercise in bravura camerawork it is simply astonishing. The film was badly received in both the U.S.S.R. and in Cuba, where it was accused of being too soft on capitalism and even of having a counter-revolutionary agenda! It's not difficult to see why, particularly in the first episode - in which three slimy U.S. businessmen draw lots for a reluctant prostitute - which fairly revels in the very 'decadence' it is supposed to be condemning. The second story also concerns the perceived exploitation of Cuba by the United States, as a sugar farmer's land is sold out from under him to an American fruit importer. Once again, an intended dig at the capitalists next door is nullified by what I consider to be the most joyous scene in the whole picture: relaxing after a hard day's work in the sugar field, a brother and sister drink bottles of Coke and dance to jukebox music. If the film's attitude toward the U.S. is surprisingly ambivalent, it's genuine fury is reserved for the regime of the overthrown General Batista, in episodes three and four, as the revolution gathers momentum. Despite the fact that third story climaxes with perhaps the most stunning individual shot in the entire movie, I generally found the second half of I Am Cuba less visually arresting than the first; I guess decadence must be more cinematic than ideological browbeating. I enjoyed the soundtrack a lot!
I Am Cuba (Soy Cuba) Quotes
There are no approved quotes yet for this movie.