I Bury the Living
(1958)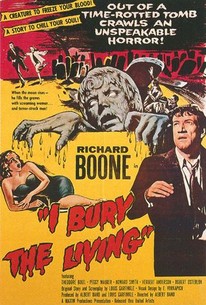 Movie Info
Unjustly ignored by many books on the horror film, I Bury the Living is a bone-chilling little mood piece, almost completed dominated by Richard Boone. Expertly avoiding the obvious throughout the film, Boone gives a thoroughly credible performance of a troubled man who labors under the misapprehension that he is God. Boone plays the new chairman of a large cemetery; in his office is a map of the grounds, with black pins representing the occupied plots, and white pins representing plots that have been purchased but not yet filled. When Boone inadvertently mixes up the black and white pins, several of the plot owners suffer untimely deaths. Inevitably, Boone becomes convinced that he has the power of life and death--a conviction that doesn't completely dissipate once the secret behind the sudden deaths is revealed. ~ Hal Erickson, Rovi
Rating:
NR
Genre:
, , ,
Directed By:
Written By:
On DVD:
Runtime:
Studio:
United Artists
Critic Reviews for I Bury the Living
Audience Reviews for I Bury the Living
½
I BURY THE LIVING plays like an extended episode of THE TWILIGHT ZONE, and, while the ultimately rather thin premise doesn't even entirely support its brief 76 minute running time, there are some fun and clever twists and turns and a number of memorable images (mostly creatively composed in the editing room) for a film with a tiny cast and no real monsters and confined to just a couple locations. You'd really have to stretch to call it a classic, but it's a very enjoyable example of what horror on a budget looked like in 1958.
Davey Morrison Dillard
How would you like to get a cemetery plot as a wedding gift? A family member dies and leaves the position of director of the cemetery to his son. The son reluctantly takes on the position and ventures down to the cemetery to understand how the place works operationally. The business man is shown a map that is marked white for still alive and black for dead and in the ground. The business man discovers if he marks someone black that is alive the person dies. Is it the map or purely a coincidence? "The only question is does a man die during his own time or the map's." Albert Band, director of Ghoulies II, She Came to the Valley, Honey I Blew up the Kids, Robot Wars, and Grand Canyon Massacre, delivers I Bury the Living. The storyline for this picture is very entertaining and the death scenes are pretty good. The acting is very solid and the cast includes Richard Boone, Theodore Bickel, Peggy Maurer, and Howard Smith. "He marked the young couple for death." I DVR'd this picture this past Halloween and just now got around to seeing it. I can say I adored this picture and found it fun to watch unfold. It is not a perfect picture or particularly intense but I found it very entertaining and worth viewing. I strongly recommend giving this film a shot. "All you do is show up once a week and sign the checks." Grade: B+
Kevin Robbins
This movie really keeps you guessing as to what is really going on until the very end. It's really cool, but kind of funny too. I like this movie.
I Bury the Living Quotes
There are no approved quotes yet for this movie.
Discussion Forum
Discuss I Bury the Living on our Movie forum!