I Dream of Wires
(2014)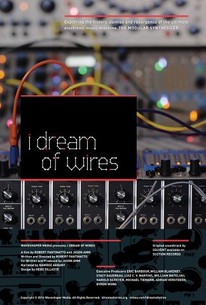 AUDIENCE SCORE
Critic Consensus: No consensus yet.
Movie Info
"I Dream of Wires" (IDOW) is an upcoming, independent documentary film about the phenomenal resurgence of the modular synthesizer - exploring the passions, obsessions and dreams of people who have dedicated part of their lives to this esoteric electronic music machine. IDOW is written and directed by Robert Fantinatto with Jason Amm (Ghostly International recording artist Solvent) serving as producer and co-writer. Inventors, musicians and enthusiasts are interviewed about their relationship with the modular synthesizer - for many, it's an all-consuming passion. Established musicians such as Trent Reznor (Nine Inch Nails), Carl Craig and John Foxx show off their systems and explain why they opt to use this volatile but ultimately rewarding technology. Meanwhile, a new generation of dance and electronica artists including Clark, James Holden and Factory Floor explain why they've stepped away from laptops to embrace the sound and physicality of modular synthesizers. Innovative companies like Modcan and Doepfer, driven by a desire to revive modular synthesizers, discuss how they planted the seeds that have now grown into a major cottage industry. What started out as a "vintage-revival scene" in the '90s has grown into an underground phenomena with a growing market of modular obsessives craving ever more wild and innovative sounds and interfaces. Today, the modular synthesizer is no longer an esoteric curiosity or even a mere music instrument - it is an essential tool for radical new sounds and a bonafide subculture.(c) Official Site
Critic Reviews for I Dream of Wires
All Critics (2) | Top Critics (1) | Fresh (1) | Rotten (1)
The film tells some good yarns and it has a lovely and lively soundtrack. But there's not enough nitty-gritty explanation about how things work to make anyone but a devoted fan really care.
Audience Reviews for I Dream of Wires
Good movie, but it's completely disingenuous for Trent Reznor to badmouth cheap Japanese synthesizers since he earned millions for Pretty Hate Machine using Turbosound and an Emu Emax -- a pretty minimalist, inexpensive setup. Sure, there are nice features to modular analog equipment, but there's also new sonic territory being explored with digital synthesizers and software synths. Two examples of sonic areas that modular synthesizers can't touch: 1) Reaktor is a construction kit that allows users to make whatever device they can imagine, or for the noob, they can download thousands of musical devices that others have created. 2) IRIS works with any sound to make it playable, and expressive using a plethora of controls. ALSO the movie ignored the major drawback to both modular and eurorack modular gear -- most of these systems are MONOPHONIC. Sorry, boys, but I play keyboards with 2 HANDS so polyphony is one of the requirements of my songwriting. As Rich Hilton (of Nile Rodgers' studio and band) says, "They're machines that go Bleep and Bloop".
Jeff Sepeta
½
If you really love synthesizers and want to learn the history, this doc is woefully incomplete. It doesn't even MENTION at least 2 major brands Kurzweil and Oberheim (in the first 60% of the movie anyway) and spends a huge amount of time on Robert Moog. Obviously he was THE major force but - guess where he started and learned before striking out on his own? Kurzweil! It also moves way to slowly, like they had enough material for a 1 hour show on Discovery but made a 1 hr. 42 min. movie instead.
Al Spaulding
could of been a little better on the explanation of the device itself aside from when and who it was invented and reinvented, also it just shows who found it and their opinions. it has been making a better come back in music and there are quite a few artists these days that use it structly. decent little doc though.
Bill Regan
I Dream of Wires Quotes
There are no approved quotes yet for this movie.
Discussion Forum
Discuss I Dream of Wires on our Movie forum!