I Just Didn't Do It (Soredemo boku wa yattenai)
(2006)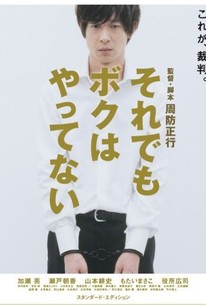 AUDIENCE SCORE
Critic Consensus: No consensus yet.
I Just Didn't Do It (Soredemo boku wa yattenai) Photos
Movie Info
James Cameron wasn't the only major director of the 1990s who scored a huge international hit and waited twelve years to emerge with a follow-up; Japanese director Masayuki Suo did the same following his 1995 box office sensation Shall We Dance?. Suo's much-different sophomore effort, the dark, earnest drama I Just Didn't Do It, emerged in 2007. A four-barreled excoriation of the Japanese legal system - slamming its hypocrisies and its weaknesses - the film concerns Teppei Kaneko (Ryo Kase of Letters from Iwo Jima), a man en route to his premier job interview on a crowded Tokyo train when he's unjustly accused of groping a Japanese schoolgirl. The court system tries to encourage him to plead guilty, but he passionately insists on his own innocence, which plunges him into a Kafkaesque black hole of bureaucratic suffering - endless interviews with police and attorneys, periods of incarceration, hearings, and other indignities. At the last minute, it appears that fate has dealt Teppei an encouraging hand, once he inherits an enthusiastic, skilled defense attorney - but alas, that attorney hands the case to a female junior partner (Asaka Seto) who believes in Teppei's guilt and refuses to be convinced otherwise. ~ Nathan Southern, Rovi
Critic Reviews for I Just Didn't Do It (Soredemo boku wa yattenai)
All Critics (3) | Fresh (3) | Rotten (0)
Throughout the overlong running time, Suo keeps us gripped with a witty, insightful approach.
Righteously infuriating in its comprehensive portrait of a system that values public approval ratings and a high conviction rate above the truth.
Audience Reviews for I Just Didn't Do It (Soredemo boku wa yattenai)
½
The makers must have been quite daring to create such a film bearing remarkable characteristics like: --> having a plot where you know in advance where it's gonna end before the movie even begins --> script involving a paper-thin plot --> no usual family drama or romantic story or some action thriller ---> above all, making it run beyond 135 minutes!!! I guess the movie was made so long so that one can realize how long the suffering is. Maybe for the same reason, the title is "Soredemo boku wa yattenai" instead of short and suitable 99.99%. If you don't know how the legal system works, this critical approach may provide you some insight. Sometimes the miscarriage of justice can be justified because the "reasonable doubt" simply can't be verified exactly. The actors pitch in a decent performance managing to not let it get loud & soapy, but IMO the movie didn't need to be this long to make its point. Yet having said that, I wasn't awfully bored by it, and found it a watchable fare for myself. That may not be the general opinion, of course.
familiar stranger
Super Reviewer
½
Chillin, frustrating, revolting and the list of adjectives goes on. A sharply written and directed criticism towards a justice system based on public acceptance instead of the persecution of justice. The movie wisely avoids easy routes and traps of the genre. No big emotive speech, no outrageous over the top melodramatic antics. Burocracy is a painful elevator that never seems to stop, and is always playing the same damn song. The detectives, and even the second judge are never portrayed as "evil" characters, they are just pieces of a big well oiled machine. Molesting a woman is not the real crime they chase, but the refusal of somebody to admit they did it, even if they didn't. Refusing to do the "honorable" thing in a situation where there is hardly any honor. Where molesting a woman is pretty much like paying a ticket for parking in the wrong place, and even that is probably a more expensive affair. No big shocks, no gore, and yet this was more shocking and scary than watching a dozen of stupid "torture-porn" flicks in a row. It's scary not only because it's real, but because of how little it seems that it can be done to change this horror.
Tsubaki Sanjuro
Super Reviewer
I Just Didn't Do It (Soredemo boku wa yattenai) Quotes
There are no approved quotes yet for this movie.