I Travel Because I Have to, I Come Back Because I Love You
(2011)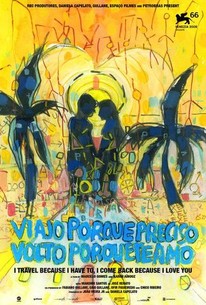 I Travel Because I Have to, I Come Back Because I Love You Photos
Movie Info
José Renato, a 35-year-old geologist, is sent on a fieldtrip to the scrublands of the Sertão, a semi-arid isolated region in the northeast of Brazil. The goal of his survey is to assess possible routes for a water canal from the region's only voluminous river. For many of the region's inhabitants, the canal will be a lifeline, the chance for a future and a source of hope. But for those living on the canal's direct course, it means only requisitions, departure, and loss. Many of the properties through which Renato passes will be flooded; many of the people and families will be relocated. As the fieldtrip progresses, it becomes clear that Renato shares something in common with the places he visits: emptiness, a sense of abandonment, and isolation. His geological research is slowly pervaded by a sensation of groundlessness, an incessant pining for his ex-wife, and a yearning to return home. But he presses ahead, continuing the trip in the hope that the voyage can somehow transmute his feelings. This haunting, melancholy, and resourceful film takes the form of a first-person travelogue, communicating its unseen protagonist's sensibility and state of mind through an impressionistic photographic record of the landscapes through which he travels and the people he encounters, and his own nakedly revealing, confessional narration. A simple but beautiful film which glides fluidly and elegantly across the borders between fictional narrative, documentary, and experimental filmmaking, I TRAVEL... is difficult to categorize but impossible to resist. -- (c) Anthology
Critic Reviews for I Travel Because I Have to, I Come Back Because I Love You
Audience Reviews for I Travel Because I Have to, I Come Back Because I Love You
½
A simple yet unique project that resembles a documentary using mostly landscape footage and the voiceover of a protagonist whose face we never see, and becoming profoundly moving as it shows a man gradually sinking into depression as he finds himself alone and away from the woman he loves.
Carlos Magalhães
Super Reviewer
What a strange movie! Never saw a movie like this before. It's too original and different .This bizarre Brazilian movie without any actor, only with a narrator is like a compelling nightmare. Its haunting images are strangely scary and at the same time thought-provoking.
Reza Mohseni
Super Reviewer
½
the purest form of a road movie, it traces a geologist's journey through brazil's northern territory on a quest to find something and to lose something. hypnotic. watch it here --> docalliance: http://dafilms.com/event/52/
Stella Dallas
Super Reviewer
I Travel Because I Have to, I Come Back Because I Love You Quotes
There are no approved quotes yet for this movie.