Otona no miru ehon - Umarete wa mita keredo (I Was Born, But ) (Children of Tokyo)
(1932)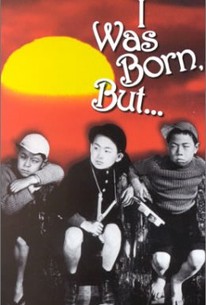 Otona no miru ehon - Umarete wa mita keredo (I Was Born, But ) (Children of Tokyo) Photos
Movie Info
One of the last great Japanese silent films and one of director Yasujiro Ozu's first masterpieces, this gentle family comedy contrasts the complexities of adulthood with a child's innocence. Two young brothers, who are the unquestioned alpha-males of fellow classmates in their suburban Tokyo neighborhood, are outraged by their father's clownish and subservient behavior at his office. As the film progresses, the children come to accept that their father is not a great man, as they imagined, and in the process, they lose some of their innocence. Ozu reworked this film for his 1959 opus Ohayo. ~ Jonathan Crow, Rovi
Critic Reviews for Otona no miru ehon - Umarete wa mita keredo (I Was Born, But ) (Children of Tokyo)
Audience Reviews for Otona no miru ehon - Umarete wa mita keredo (I Was Born, But ) (Children of Tokyo)
½
I Was Born, But... is a wonderfully titled and crafted movie of pure simplicity by the master Ozu. As the title suggests, it's about someone facing the fact that they exist, but they aren't going to achieve anything. Two brothers move with their family so their father can be closer to his boss. The boys get into trouble with the local gang of boys, but soon manage to take control. Just as they are enjoying their triumph, they discover that their father plays the clown for his boss. They see this as a betrayal, and lose respect for their father. During the Ozu Retrospective I've seen Ozu handle dialog, sound, color, and everything else. Here was a nice chance to see him use only his sparse black and white visuals. The story was hilarious and moving. The boys really respect their father, and he encourages them to make something of themselves. Once they find out about his antics, they are not amused. We see the importance of honor and respect, even amongst such young children. The family dynamic is well structured, and even without sound I was completely entranced. Seeing the two boys struggle with the local gang was simply charming. It shows them upsetting the order of the group as the new outsiders. It shows that the need to be accepted never truly leaves us, and the barriers between adults and children aren't so thick and impenetrable. The climax is the young boys giving their father permission to suck up to their boss, and realising he does it for them. So gentle, so sweet, and a little bit sad. Pure Ozu.
Luke Baldock
Super Reviewer
ozu's most successful early film is, believe it or not, an 'our gang' inspired silent comedy with a bit more of a social message. subtitled 'an adult's picture book view,' it's child's eye view of adult society makes for an engaging and fun watch. i like the way ozu never idealizes children. these kids are complete brats! loosely remade with sound and color in 1959 as 'ohayô (good morning)'
Stella Dallas
Super Reviewer
A rich, thoughtful exploration of classism as seen through the eyes of children. Removed from the subtlety of Ozu's later work, I Was Born But...trades in reservation for broad emotions, as is often the case when events are filtered through simpler narrators. The sociology is fundamentally intact, and we as a more experienced audience have the opportunity to understand things that fly over the heads of the sons (like a touchingly relatable scene where the boys are completely humiliated by a show of their father's sense of humor), but when you make a film like this you run the risk of overgeneralization. The boys' frustration is understood and justified, and the film wisely tempers it with the gentle insinuation that you can always improve your situation. Despite that, I felt the movie ultimately painted an incomplete portrait of the family's circumstances and what exactly makes the father's subordination so frustrating; surely even children this young understand that everyone has a boss, right? The dilution of the theme makes the movie simpler to approach and grapple with, but not quite as satisfying in the end. The catharsis isn't as easy to apply to our own lives because, well, we aren't kids anymore. Finally, the film's seemingly pro-assimilation ending has a disconcerting ring to it, dovetailing the film into a sort of hopelessness that explodes in the face of its otherwise uplifting tone. Still, it's funny, likable and underhandedly intelligent, sneaking up on you with its insight. Definitely worth watching.
Drew Smith
Super Reviewer
Otona no miru ehon - Umarete wa mita keredo (I Was Born, But ) (Children of Tokyo) Quotes
There are no approved quotes yet for this movie.