What to know
critics consensus
iBoy's original premise and Maisie Williams' strong performance aren't enough to overwrite a clichéd narrative, too-serious tone, and overall glitchy execution. Read critic reviews
You might also like
The Murder of Nicole Brown Simpson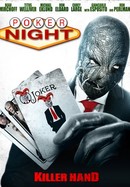 Rate And Review
Movie Info
A teenager (Bill Milner) wakes from a coma to discover that fragments from his broken smartphone have been embedded into his brain and turned him into an actualized app with super human powers.
Audience Reviews for iBoy
iBoy shows what really happens when a normal person becomes "super", people they love get hurt. Couple this realness with some great cinematography, a sort of nitty gritty London. The acting is just okay but the story is very original and unique.

Let's face it, everyone wants a piece of the superhero genre. Maybe not quite everyone, but there are definitely some filmmakers out there that are jealous they haven't been handed a superhero project to tackle. The problem with that, is that we are always going to be receiving endless adaptations of comic books. Not that these are remembered as classics, but when will we start to make films like Sky High or Chronicle again? Everything seems to be based off of pre-existing material. Sure, films like Push or Jumper were messes, but at least they were attempts at something fresh. This is precisely why I enjoyed watching iBoy so much. It's not going to win any awards and most people will probably never hear of it, but here is why I think it deserves some of your time. I'll be completely honest and say that I was very hesitant in watching this film after reading the plot synopsis, and I'm still going to remain hesitant in my recommendation of this film. Following Tom (a young high-schooler) after he is shot in the head while on the phone, the bullet only grazes his skull, leaving shards of the cell phone in his brain. Able to tap into every piece of technology and control it with his mind, he very quickly becomes the hero of his city, taking down criminals. Yes, the premise is exactly as dumb and silly as it sounds, but it's taken seriously and it also kind of works in context with its tone throughout. If you can buy into this premise, then I think you will be able to have some fun with the events that unfold throughout iBoy. Giving your main character a backstory is definitely going to add to the overall impact of the story at hand, but when certain characters are given traits, only to break them in a proceeding act, it can become pretty messy. For example, Tom's mother is present in the first act in order to provide the audience with insight into Tom's past and to explore his home life a bit, but by the third act, his mother becomes a very prominent role, helping to move the story along. This really came out of left field in my opinion and I would have seen a different character doing the things she was given to do. I could just be getting nit-picky, but there was a bigger presence missing in my opinion and the villain felt way too forced. Lucy, played enjoyably well by Maisie Williams, was an enjoyable companion on-screen for Tom, but there are times where it feels like that's the only reason she's there. Everything that her character does feels by the number and you can predict the end of this film from a mile away. There are moments where she is literally just present to become the damsel in distress, but she always manages to get out of situations on her own, which was very anti-climatic. Sadly, that is not where the cliches end. From beginning to end, whether it's the way he gets his powers, or whether it's a big showdown in the rain with the main villain, you can see everything coming from a mile away and you will most certainly predict the way this film will conclude. I may be ripping on this film, but its premise is far too unique to dislike. In the end, does iBoy change the game for the superhero genre? I hope so, because although it's not a great film my any means, it's premise is very intriguing and enough for me to warrant it a recommendation. Many people talk about how there is superhero fatigue out there today. I personally only think that is becoming true with Marvel and DC. There is still plenty of room for original concepts of people getting powers. iBoy is the perfect example of a story that didn't have to be shown on the big screen in order to gain an audience. This film chose perfectly to be on Netflix and I do suggest checking it out when you have a spare 90 minutes. The film itself really isn't anything that special as a whole, but the premise is very cool and the execution is done well. For what it is, it's fine. P.S. I admit it's a complete rip-off of the video game Watch Dogs, but nobody made that into a film yet, so I think this still works.

Despite a few plot holes this is a solid teen thriller that shows the grittier side of gangland London.
Quotes
There are no approved quotes yet for this movie.