I'd Rather Be Rich
(1964)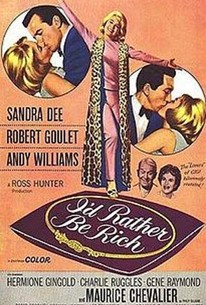 AUDIENCE SCORE
Critic Consensus: No consensus yet.
I'd Rather Be Rich Photos
Movie Info
In this film, Cynthia's grandfather fakes an illness and pleads with Cynthia to marry before he dies. Cynthia decides to fly her fiance to meet Grandpa, but his plane is delayed. She arranges for her friend to cover as her fiance, which leads to difficulties when the truth is revealed.
Critic Reviews for I'd Rather Be Rich
There are no critic reviews yet for I'd Rather Be Rich. Keep checking Rotten Tomatoes for updates!
Audience Reviews for I'd Rather Be Rich
½
A romantic comedy featuring two of the biggest singers of their day, Andy Williams and Robert Goulet. This quaint sixties comedy is SO period a piece that early sixties fans will love it and many today will wonder just what was so good about it. Well, I guess you had to be aware of the times and the actors in this so so romantic comedy. [img]http://upload.wikimedia.org/wikipedia/en/thumb/b/b7/Idratherberichposter.jpeg/220px-Idratherberichposter.jpeg[/img] 'I'd Rather Be Rich is a 1964 romantic comedy film with musical aspects directed by Jack Smight, produced by Ross Hunter and starring Sandra Dee. The film focuses on a dying man who wishes to meet his granddaughter's fiancé, but he is unavailable, so the woman persuades another man to substitute for him. Then the grandfather recovers."--wikipedia [img]https://www.movieposter.com/posters/archive/main/29/MPW-14880[/img] Andy Williams and Robert Goulet, though superstar male vocalists in the day are excellent actors in this very period romantic comedy SO typical of the early 1960's. SEE the film starting in installments here: http://www.youtube.com/watch?v=uiEWBtirAO8 [img]https://encrypted-tbn1.gstatic.com/images?q=tbn:ANd9GcQZOaOWNHtksNS7tYlijrvboN8JcwfJxP3hUKrWd4H-kSqowqmqwg[/img] Robert Goulet and Sandra Dee Sandra Dee as Cynthia Dulaine Robert Goulet as Paul Benton Andy Williams as Warren Palmer Maurice Chevalier as Philip Dulaine Gene Raymond as Martin Wood Charles Ruggles as Dr. Charles Crandall Hermione Gingold as Miss Grimshaw Allen Jenkins as Fred Laurie Main as Harrison Dort Clark as Albert [img]https://lh6.googleusercontent.com/proxy/DZfQOMTTfOyFzM5y-yuSM4aD8aJCXew6akW94vIhp475o3CyDzFWXqo1u3fVTgHCUfZ3dPWHuJTb_8HSFUXgZw%3Dw426-h320-n[/img] Dee and Andy Williams in a fine singing scene Directed by Jack Smight Produced by Ross Hunter Written by Oscar Brodney Norman Krasna Leo Townsend Cinematography Russell Metty Distributed by Universal Pictures Release dates August 26, 1964 Running time 96 minutes Country United States Language English [img]http://www.seniorplaza.nl/images/old/copied/andyiwouldratherbericht.jpg[/img] Left to right: Goulet, Dee, Williams
monsieur rick
I'd Rather Be Rich Quotes
There are no approved quotes yet for this movie.
Discussion Forum
Discuss I'd Rather Be Rich on our Movie forum!