Illusion Travels by Streetcar (La Ilusion viaja en tranvia)
(1954)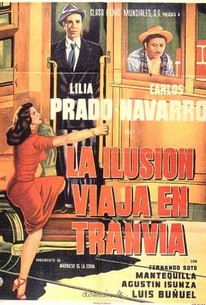 AUDIENCE SCORE
Critic Consensus: No consensus yet.
Movie Info
Seldom has there been a more descriptive and succinct film title than Illusion Travels by Streetcar. Luis Bunuel offers us nothing more or less than a series of hallucinatory images, experienced by two senior citizens while taking their last ride on the Mexico City public transit system. One of the more startling shots (though not the most) depicts slabs of raw meat dangling from the racks of the streetcar, in the manner of a mobile deep-freeze. Oddly enough, the film observes all commercial considerations; this is surrealism made palatable to even the most conservative of filmgoers. Illusion Travels by Streetcar was originally released as La Ilusion Viaja en Tranvia. ~ Hal Erickson, Rovi
Critic Reviews for Illusion Travels by Streetcar (La Ilusion viaja en tranvia)
All Critics (3) | Top Critics (1) | Fresh (3) | Rotten (0)
Not a great Buñuel, but it has a certain warmth that his other films often lack -- to say the least.

Airily shot in various mock-neorealist locales, the movie is more than passingly politicized in its wistful populism
Illusion Travels by Streetcar is the more aesthetically and politically astringent but less heartfelt cousin to Bunuel's Mexican Bus Ride.
Audience Reviews for Illusion Travels by Streetcar (La Ilusion viaja en tranvia)
½
"Illusion Travels by Streetcar" starts with Caireles(Carlos Navarro) and Tarrajas(Fernando Soto) going above the call of duty by repairing a trolley car well ahead of schedule. And then almost get fired for their efficiency. So, they decide to do the only reasonable thing and get drunk that night, just as they have to perform in a religious pageant. Once the beer runs out, they decide to appropriate some more for themselves. It doesn't stop there, however, as the guys also borrow the repaired trolley car for a ride. It is one thing to make a period piece about the tragedy of the triumph of the car over mass transit and quite another as Luis Bunuel does with his entertaining "Illusion Travels by Streetcar" to do it as it is happening.(The scenes involving the corn meal shortage escape me, as they are probably very much of this specific time and place.) That's even though the story gets off to a rough start, especially the religious pageant which is probably Bunuel just practicing on one of his pet issues. But once it does, the film moves nicely, engagingly proving the universal constant that mass transit is a melting pot for a city's classes, much to the ignorance of the transit's bosses.
completely charming comedy with social undertones from bunuel's mexican period. the light satiric tone reminds me of a classic ealing. great use of mexico city at night
Stella Dallas
Super Reviewer
In its own modest way, this is a delightful film. While hardly a cornerstone of Luis Bunuel's amazing catalog, this little-discussed work does display some of the director's hallmarks. As with "The Discreet Charm of the Bourgeoisie" and "The Exterminating Angel," the lead characters find themselves frustratingly stuck in a loop. There's a tacky staging of a Garden of Eden play that betrays Bunuel's usual cynicism about religion. Similar jabs are taken at capitalism and the Red Scare. And there's another cold, beautiful woman who toys with men's hearts. Two friends, Caireles and Tarrajas, work for a streetcar company. After the management is perturbed that a car is repaired too promptly (it was supposed to be out of commission for a week, you see, so now it must be scrapped altogether to preserve the schedule), the irritated twosome share a drunken night to let off steam. Amid their woozy delirium, they decide to take the contested streetcar ("Number 133") on a joyride. The trouble is, the neighborhood peasants see the car and don't realize it's running unofficially. So they keep demanding rides, and the two pranksters are too good-hearted to ignore the requests. (Seeing the peasants hang cuts of raw meat from the ceiling is another unmistakable Bunuel touch.) The car rumbles along this late-night, makeshift route until Caireles and Tarrajas finally clear the passengers. The two awake among the seats the next morning and, fearful of being charged with theft, immediately drive the car back to its garage. But there's a traffic snarl at the entrance, and they have no choice but to take a second spin around town. Which just brings more passengers. They switch the bus's destination banner to "SPECIAL," hoping this will discourage riders. But this only attracts a teacher awaiting transportation for a class field trip. Such complications persist in a low-key, farcical fashion. Meanwhile, Caireles also strains to conquer the dangerous curves of Tarrajas's sister Lupita, and a retired busybody discovers the hijack and intends to blow the whistle. Despite its cheap production values, "Illusion Travels by Streetcar" has several laugh-out-loud moments (the best: when the car sets course for "SLAUGHTERHOUSE") and is never dull. It's miles better to Bunuel's earlier "Ascent to Heaven" (a structurally similar movie about a bus ride) and deserves more respect. I'll always smile to recall the company bureaucrat's warning: "Too much of anything is detrimental. Even efficiency."
Eric Broome
Super Reviewer
Illusion Travels by Streetcar (La Ilusion viaja en tranvia) Quotes
There are no approved quotes yet for this movie.