Ilo Ilo
(2014)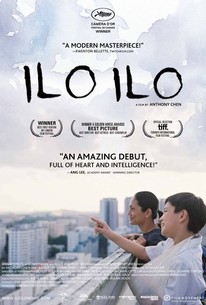 Movie Info
Set in Singapore during the 1997 Asian financial crisis. Ilo Ilo chronicles the day-to-day drama of the Lim family - troublesome grade-schooler Jiale and his overstressed parents, Heck and Leng. Comfortably middleclass and with another baby on the way, they hire Teresa, a Filipino immigrant, as a live-in maid and nanny. An outsider in both the family and Singapore itself, Teresa initially struggles to manage Jiale's antics and find her footing in her new community. The two eventually form a unique bond, but just as Teresa becomes an unspoken part of the family, unforeseen circumstances in an uncertain economy will challenge the new normal yet again. (c) Film Movement
News & Interviews for Ilo Ilo
Critic Reviews for Ilo Ilo
Audience Reviews for Ilo Ilo
½
A not so interesting effort that seems confused about what it wants to say and has a flawed plot that suffers from many unresolved elements, like the mother's contrived jealousy, a lack of decent explanation for the boy's bad behavior and his abrupt bonding with the maid.
Carlos Magalhães
Super Reviewer
½
Reviews, at least for a little while, will be shorter considering the fact that my laptop is friend.  So I can't go as in depth as I'd normally do.  This is gonna be a relief to some, if anyone actually reads this, cause I admit that I can be a little self-indulgent or redundant.  Plus typing out a truly in-depth reviews on a Samsung Galaxy S3 is a gonna be incredibly annoying.  I can't imagine writing out my Guardians of the Galaxy review on this.  I plan on getting a new computer, I just do not know when.  On to this film, I've ranted enough.  I don't think this would've been a long review either way, just felt an explanation was necessary. This is a really good, understated movie that takes a good look at the economic struggles, during Singapore's 1998 recession, of a middle-class couple that hires a nanny/maid to take of their devil spawn.  This little kid is absolutely insufferable, but in some ways he's clearly calling out for attention from his parents, whom, while competent, don't really do a great job at raising this kid.  They just leave him to his own devices and hope that screaming at him, or hitting him, will solve anything.  Of course, as the film progresses, and Terry and Jiale spend more time together, they build a bond with each other, something that Jiale clearly needed from his parents.  This is also something he probably got from his grandfather, who had recently passed away.  Jiale's closeness to Terry sees a change in his attitude.  He still gets into problems here and there, but, by and large, he's not as insufferable as he was in the beginning.  Terry is a good influence on him.  Of course, seeing how close her son is getting to the nanny, Leng starts to grow jealous of their friendship.  Never mind the fact that the reason Terry was hired was to take a huge load off of Leng's back, so her jealousy, while somewhat understandable, also seems greatly unjustified. Leng grows resentful of Terry as they got closer, but it's subtle. If there's one thing you can say about this film is that it's quiet and compassionate, there's no melodrama. It all feels natural and organic. The film also tells, a much less obvious story, about the economic trouble Singapore is going through and the troubles Terry has, and the Philippines as a whole, considering the fact that Terry had to leave her son behind to work in a country unfamiliar to her, as many other people from the Philippines do, in order to get a job where she earns a measly wager to send back home. And the job isn't even guaranteed. Tough economic times for everybody. These underlines the main arc of the film and becomes part of it in the end. The acting is strong but not outstanding, but it certainly does a good enough job at telling the story they want to get across. This a really good movie, might not appeal to people who thought that the new Teenage Mutant Ninja Turtles was one of the year's movies. But if you love good, understated, and compassionate free of pretension, then this will be up your valley.
Jesse Ortega
Super Reviewer
Possibly the best Singaporean film I've ever seen. An entirely un-sugarcoated portrait of a Singaporean family's life, with powerful performances from Angeli Bayani and the tyrant boy Koh Jia Ler. Events are believable, small, but poignant, and you end up feeling for everybody in the end.
Letitia Lew
Super Reviewer
Ilo Ilo Quotes
There are no approved quotes yet for this movie.