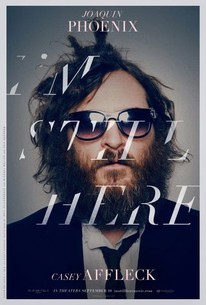 I'm Still Here
2010, Documentary/Music, 1h 48m
133 Reviews
10,000+ Ratings
What to know
critics consensus
As unkempt and inscrutable as Joaquin Phoenix himself, I'm Still Here raises some interesting questions about its subject, as well as the nature of celebrity, but it fails to answer many of them convincingly. Read critic reviews
Where to watch
Rent/buy
Subscription
Rent/buy
Rent/buy
Rate And Review
Movie Info
Director Casey Affleck follows Joaquin Phoenix as he carries out a plan to retire from acting and concentrate on a new career as a hip-hop musician.
News & Interviews for I'm Still Here
Audience Reviews for I'm Still Here
A prank void of any substance, I'm Still Here manages to be nothing more than a Borat imitation with flawed artistic pretenses.

I can appreciate taking artistic risks, but this has been the biggest waste of my 2 hours and $5 Bluray disc.

In 2008, Joaquin Phoenix announces that he's quitting acting to pursue a music career in hip hop. His bother-in-law, Casey Affleck, decides to film his every move over the course of a year and delivers a portrait of an artist at a crossroads in his life. Beginning with home video footage from 1981 in Panama, of a young Phoenix jumping from a waterfall, this films sets it's stall out in exploring a life that's seemingly always been documented. Phoenix has been in the public-eye from a very tender age, having appeared as young as 8 yrs old in the television series "Seven Brides for Seven Brothers" before moving onto "The Fall Guy", "Hill Street Blues" and "Murder She Wrote". His first recognisable movie roles came in the shape of 1986's "Space Camp" or 1989's "Parenthood" before moving into more edgier roles in Gus Van Sant's "To Die For" in 1995. Up until then, he was better known as the younger sibling of (the late) River Phoenix but eventually gained the full respect of movie goers with two Oscar nominations (now three, since the release of this movie). It's was through this steady rise in the film industry that brought so much media attention to his, seemingly, self destructive decision to abandon acting and become a rap artist under the guidance of Sean "P. Diddy" Combs. This fly-on-the wall documentary follows Phoenix's obvious lack of talent for rapping and the abandonment of his personal hygiene, while his fragile mental state increased due to a voracious appetite for cannabis and cocaine. As he's constantly high and stoned, a frenzied media where clambering for his story and a reason for the meltdown of an actor in the prime of his career. Ultimately, though, the joke was on them (and us), as the whole thing was an elaborate hoax and an exposé of the nature of celebrity and their pandered ego's and lifestyle's. Phoenix is entirely believable in his bearded, paunched appearance and his spiralling egotistical, mental anguish and arrogance. He even dares to tackle chat-show host David Letterman (in a now infamous episode) and when you consider that this was a role that completely consumed him - not only throughout the length of the shoot but in the eyes of the world, before and after - you realise how outstanding he is. It's a powerful display of commitment and it's probably one of the bravest and boldest moves that an actor has done. As entertainment, though, it's questionable. It goes on too long and there are points where the voyeurism pushes boundaries and comes across as bad taste. What could have been the downfall of a man going through a serious mental breakdown, struggles to decide whether it's comedic or dramatic. That being said, it's interesting viewing and it at least exposes the bitter behaviour of western media and how easily they can turn. Being a fan of Phoenix, will certainly add to the appeal of this film, but if you can normally take or leave him, then this won't hold much of an interest. It's flawed, but it's a bold and noteworthy experiment all the same. Mark Walker

A few years ago Joaquin Phoenix announced he was retiring from acting to pursue a hip hop career. Was it a hoax, or was it the real deal? Well, Casey Afffleck filmed the entire thing for this "documentary". I was very intrigued to see this, because I think Phoenix is a terrific actor. After watching this, I must say, I don't give a crap if this whole thing was real or not(never says). This movie is boring, all over the place, and doesn't go anywhere. I really hope it was a hoax, because if not, Phoenix is a messed up dude, but more importantly he's a jerk. He comes off very bad in this, and makes me like him less. If it was all fake, then man he is a great actor, but this is the type of movie that just makes you like the people involved a little less. I know he is coming back to acting, and I'm sure he will still be good, but as far as this movie goes, just skip it. This isn't worth the time or effort to watch a movie.
See Details