Indictment: The McMartin Trial
(1995)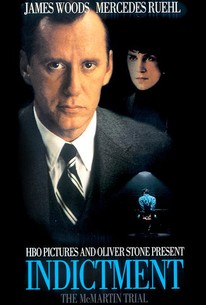 AUDIENCE SCORE
Critic Consensus: No consensus yet.
Movie Info
Originally broadcast on HBO, Indictment: The McMartin Trial is a docudrama concerning the infamous McMartin child abuse case. In 1984, seven employees of Los Angeles' prestigious McMartin Preschool, including four members of the McMartin family, were arrested and charged with child abuse and sexual molestation. The film centers on the story of lawyer Danny Davis, an opportunistic attorney who agrees to defend the McMartins. Initially, Davis takes the case solely for the publicity, but as he investigates further, he becomes convinced of his clients' innocence. Meanwhile, however, the family is pronounced guilty by the media, which airs heated allegations of "Satanic rituals" and a "nationwide conspiracy of sexual predators," in an increasing frenzy that the film compares to a modern-day witch trial. To convince the jury of the falsehood of these charges, however, he must overcome opposition from zealous prosecutor Lael Rubin and discredit Kee McFarlane, the child therapist that Davis believes has unfairly manipulated the McMartin Preschool children into giving damaging testimony. At the time of its airing, the film met with controversy; while some found its case convincing, others alleged that the filmmakers were unfairly biased in favor of the McMartin family.
Critic Reviews for Indictment: The McMartin Trial
There are no critic reviews yet for Indictment: The McMartin Trial. Keep checking Rotten Tomatoes for updates!
Audience Reviews for Indictment: The McMartin Trial
Very well done, and sickening........Amazing that I remember this news media frenzy story back when they were arrested. It was everywhere. What wasn't everywhere was how it all turned out. Where was the news media frenzy then? Not interesting enough by then? On to the next sensational story? Injustice like this just seems so surreal to me, but it seems to happen over and over. "Justice for all"? "Innocent until proven guilty"? Empty phrases, apparently...
Cynthia S.
Super Reviewer
a really good movie about an incredible case. The film shows the defendants who were accussed of child molestation going through so much abuse when they did not have any evidence to support the facts. It sometimes is depressing to realize this is about a real case that happened. The film is great and portrays these actions with great actors. It is a great courtroom movie and I enjoyed watching it. *Mentions Chuck Norris it is one of the faces the kid circles as who molested him. The lawyer showed just how unreliable the kids were and how the woman interviewing the kids manipulated them.
Matthew Marks
[size=5][b]Indictment: The McMartin Trial[/b][/size] Directed by: Mick Jackson [img]http://upload.wikimedia.org/wikipedia/en/thumb/8/8a/TheMcMartinTrial.jpg/200px-TheMcMartinTrial.jpg[/img] This is a really excellent Made-for-HBO movie about a real-life case I'd never heard of. Anyhow, if anybody paid any attention to the Duke Lacrosse case, if this movie is any indication, this was a very similar case. Except that intstead of being thrown out after a few months and the prosecutor leaving in disgrace, it went on for seven years and nothing ever happened to the prosecutors. In real life, it seems that one of the people, while perhaps innocent, was not as clearly so as it shows in the film. But it remains a fact that the DA's office sought to prosecute several people on flimsey evidence, they were eventually forced to drop charges on all but one defendant, and even then after 7 years not able to get a conviction. The case started because of an unbalanced woman with a history of reporting fake child abuse reports that her son was sexually abused at his daycare. After this, a social worker uses highly controversial techniques to help other children "remember" the abuse after they say at first it never happened. No physical evidence whatsoever was found, except maybe on one boy, and it was suspected that he may have been abused by his father, nor was any eyewitnesses that were of age and/or did not have the coercive "remembering" technique used on them. The stories many of the children told about the abuse were provably wrong. On this evidence, virtually everybody associated with the daycare was taken to trial for sexual abuse of children. It's impossible to know for certain if there really was anything going on, and there is no doubt this movie was somewhat slanted. However, it also seems difficult to deny the amount of hysteria and complete lack of objectivity surrounding the events. It was facinating to watch. I hope that the Duke Lacrosse case taught us a lesson as a nation, and we don't allow things like this to happen again. Anyhow, this is a great reminder. The film isn't great by any means, but for what it is, it's facinating and tense. Henry Thomas is great, he plays a supposed abuser who's an awkward 25+ (the movie takes palce over several years) who's just odd enough to look suspect but just normal enough to make you doubt his guilt. James Woods is the admittedly sleazy lawyer who defends them in an effort to try to prove, to himself, he's not just a hack lawyer. Anyhow, if this sounds interesting to you, it will be. If not, it probably won't. I really enjoyed it. 8.0 [size=5][b]Chronicles of Narnia: Prince Caspian[/b][/size] Directed by: Andrew Adamson [img]http://www.scifimoviepage.com/upcoming/photos/prince_caspian-poster1.jpg[/img] The newest Narnia movie is really good. Really quite good. I didn't expect all tha much of it, but it delivered I thought. It's better then Harry Potter 1,2 or 5 (although probably not better then 3 or 4...that's close) and while it's not quite up to the LOTR standards, I was very plesantly surprised that it was a substantial step up from the first film...which I still enjoyed. Lewis's work, while written along with Tolken's, is a lot more heavily allegorical, and he can get weighted down in it. I still enjoy it, but it does detract somewhat. This movie modifies the book somewhat, and while it remains allegorical in a way, it's less so, and the movie is more able to focus on a classic political, personal and spiritual struggle in a kingdom torn apart by hundreds of years of conflict and tyrany...of course, with some help from the the second coming of four kids from 1940's England who once were kings and queens of that very land. Anyhow, the scenery is spectacular, the acting is great from the kids, as well as a bunch of supporting characters. The incomprable Peter Dinklage as Trumpkin, the grouchy but lovable dwarf who guides the heros toward the right path, even if inadvertantly, is really good. As an...abnormal person, some might say, "Nobody would mention Dinklage if he weren't a dwarf." But they have it ass backwards. If he weren't a dwarf, people would more easily realize that he's a real talent. It's kind of a double-backlash thing. People realize he's a good dwarf, but sometimes I think he gets limited to that. Which is sad, because he's just great period. Liem Neeson is the perfect voice for Asland...it's one of those things like James Earl Jones as Darth Vader, once you hear him as the character, you can never really accept anything else. Reepacheep, played by Eddie Izzard, is wonderful to. Anyhow, if you are even remotely intersted in this film, see it. It's very good. I wasn't all that enthused about this film, I figured I'd enjoy it but not really love it, kind of like the first one, but instead, I'm already looking forward to Voyage of the Dawn Trader. This movie is exciting, funny, thoughtful and just a good adventure. Check it out. [size=4][i]8.5[/i][/size]
Cliff Smith
Indictment: The McMartin Trial Quotes
There are no approved quotes yet for this movie.
Discussion Forum
Discuss Indictment: The McMartin Trial on our Movie forum!