Inescapable
(2013)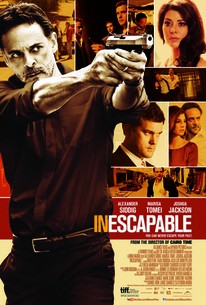 Movie Info
This politically charged and emotionally powerful thriller follows a successful businessman who suddenly finds his life turned upside down when his journalist daughter goes missing during her trip to his hometown of Damascus. He knows that the reason for his exile is tied to his daughter's disappearance. His first trip home in over 30 years turns into a frantic quest to rescue his daughter while reconnecting with the love of his life.
Rating:
R (for some violence and brief language)
Genre:
Directed By:
Written By:
In Theaters:
On DVD:
Box Office:
$4,063.00
Runtime:
Studio:
News & Interviews for Inescapable
Critic Reviews for Inescapable
Audience Reviews for Inescapable
½
"Two women, once a lesbian couple and now just friends, leave for a seminar together. Their current girlfriends, left to their own devices, fall for each other and begin a desperate steamy affair," says IMDB. Err.. no. Oops. Sorry, wrong 'Inescapable'. I did not watch the horridly atrocious girl-on-girl flick by writer/director Helen Lesnick from 2003. Rather I watched the excellent 2012 movie from Ruba Nadda starring an excellent Alexander Siddig. As is the case with an unfortunate number of movies the last couple of years, most of the audience reviews you will find online for 'Inescapable' focus on how this movie portrays the country it was (supposedly) shot in and how the author of that review doesn't agree with the (political) view of said country that is given in the movie. First off, that is unnecessary. Second, did anyone ask for that? Third, this is a movie. So what?!. 'Professional' reviewers are getting on my nerves more and more as well these days. Who cares -in relation to this work of fiction- if Syria is in the news right now? Who cares if the shooting locations in South Africa and Lebanon do not really look like Syria? And lastly: any 'professional' review writer who compares this story to 'Taken' has disqualified him/herself from being taken seriously by me. Back to the production at hand. This is a movie that is very different from 'Taken' and the likes. The main character is Adib (Siddig), a successful Syrian immigrant in Canada who learns that one of his daughters, on a road trip in Europe, has vanished on a secret visit to her father's birth country. Adib has very good reasons to never go back there, but is forced now his daughter has gone missing. We follow him as he pursues different avenues to get his daughter back. Siddig plays a layered, very human character. He is -thankfully- nowhere near the superhuman ex-CIA combat soldier portrayed by Liam Neeson in 'Taken'. He brings the story to life here. The pace is nice. No unnecessary shots of travel or family drama. Even though the movie was obviously not shot in the warzone that is Syria these days, the movie does a good job of portraying what you'd expect the situation to be in this fictional story. See, I didn't say it portrays Syria accurately. God knows I don't have any clue of how it looks there and I have no desire whatsoever to find out or to read about it in movie review. So what if the Syrians speak English in this movie. I'm always glad when I don't have to read subtitles. I'm not going to spoil the story here. I'm just going to say it has several layers and some twists and turns that keep it interesting. Not so many that you wonder why the hell you ever chose to watch this movie, but enough to keep you awake. It's produced well and has nice visuals. Please ignore negative reviews for this one. You won't regret it. Pros: Great acting, well-developed story. Cons: none Verdict: Go see!
Rudy Maximilian III
Mild execution when it coulda, woulda, been like Taken. It beats a kick in the head, but in all it's a meh. Plus, why would Marisa Tomei been cast as the Demascus woman, couldn't they get someone of middle eastern origin?
Randy Berger
½
After his daugher Muna(Jay Anstey), a photographer, goes missing in Damascus, Adib(Alexander Siddig) is forced to return to his native Syria for the first time in decades where he is persona non grata to say the least. At least, he still has friends there like Fatima(Marisa Tomei) who helps him enter the country and Sayid(Oded Fehr) who is now a big cheese in the security services. That's not to say Adib is helpless on his own as he discovers a couple of clues in his daugher's hotel room. Of course, there is nothing quite like protocol when he visits the Canadian embassy to check in with Paul Ridge(Joshua Jackson) before making a call to the Russian embassy. "Inescapable" is at best a half-baked thriller. Now, if only it had been a fully baked thriller, we could have gotten some fun out of the whole thing. As it is, there are some nice moments, especially the opening lock picking scene, and fine shots but not much beyond that. On the minus side, there is almost a running joke out of quickly obtained visas and characters here tend to get rescued not out of their own resourcefulness but out of somebody showing out of the blue. You need more than that level of potential watchfulness and a few mentions to fully document pre-civil war Syria as a police state which does not exactly come as a surprise. What is desperately needed in the movie is a broader perspective not only on the country but on Adib, along with more dramatic depth.
Inescapable Quotes
There are no approved quotes yet for this movie.